Published on February 7, 2017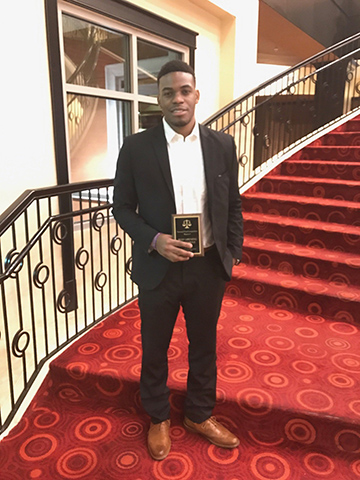 Over the weekend, a team from Cumberland School of Law made the Final Round of the National Trial Competition Regional Tournament. The team of Curtis Seal and Bianca Svensson beat teams from St. Thomas University School of Law, the University of Florida Levin College of Law, the University of Alabama School of law and Faulkner University's Jones School of Law on the way to the Final Round. Seal and Svensson lost a close, hard-fought final round by one vote against the host school, Stetson University School of Law, narrowly missing becoming the tenth Cumberland team to advance to nationals in the past nine years. Drew Bentley and Keith Stephens served as witnesses for the team.
The team of Drew Panella, Kingsley Okpara and Amanda Wineman also participated in the competition. Okpara won Best Opening Statement for the preliminary rounds (pictured at right). Ben Keen as the witness for this team.
Both teams were coached by Judge Jim Roberts, Sara Williams, Ross Massey and Jeremy Hazleton.