Published on January 28, 2020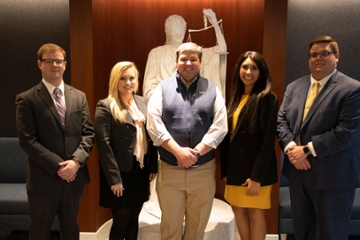 On January 24-25, 2020, Cumberland School of Law's National Arbitration Team competed in the ABA National Arbitration Competition in Chicago, Illinois where they reached the finals. Team members include third-year students Jordan Godwin, Elizabeth Rainwater and Thomas Thorneycroft, and second-year student Jordan Doggett. 
At the competition, Cumberland defeated the University of Houston School of Law and the Brooklyn Law School in the preliminary rounds. In the semifinals, Cumberland defeated the University of Oklahoma College of Law and advanced to the finals to face Texas Tech University School of Law. Cumberland was defeated in a close round with Texas Tech and finished second in the nation.
The team is coached by Cameron McEwen '07.