Published on January 5, 2022 by Morgan Black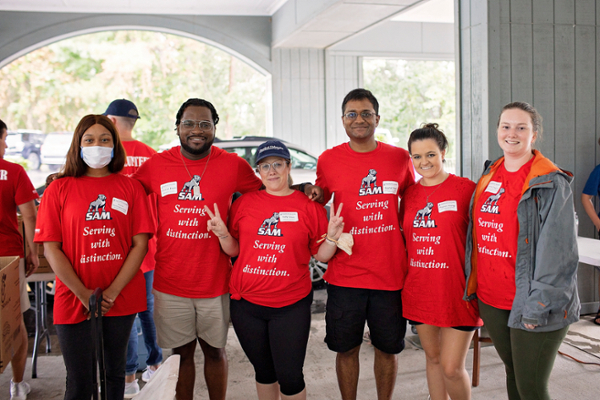 The Princeton Review, known for its test prep tutoring and college and graduate school rankings, has released its list of the
Best Law Schools for 2022
. In the rankings, Samford University Cumberland School of Law ranks 4th in the nation for
Best Quality of Life
.
The Princeton Review's ranking lists are based on data from surveys of 15,000 students attending 168 law schools in the United States, and of administrators at the schools.
The Best Quality of Life ranking, which the law school maintained its same position from 2021, is based on students' answers to questions about the school's community, the location of the school, the quality of social life at the school and the school's research resources.
Student survey comments about Cumberland School of Law say that it is "a little bit of a hidden gem" and "a great place to become a lawyer." Comments also note the small class sizes and the "diverse faculty with impeccable credentials." They said that "the professors are an amazing group; [they] are extremely knowledgeable and hilarious yet simultaneously intimidating." Students raved about the professors' open-door policy and genuine, helpful nature, and the accessible and very personable administration. Students also reported on the beauty of the campus and the convenience to the metro Birmingham area. In addition, students collectively reported that "There is a real community at Cumberland. There is a friendliness and warmth that you just won't find at other schools. We interact with each other like friendly colleagues; we compete with each other like sibling rivals; and we support each other through the trials of life and death like family."
"A caring and supportive sense of community has long been a distinctive part of Cumberland's culture," said Dean Corky Strickland. "As the demographics of the student body, faculty, and staff evolve, that culture requires all of us to be intentional about understanding our colleagues and their circumstances and ensuring they all are engaged and supported members of the Cumberland community. While that effort is never complete, this ranking is testament to Cumberland's people and culture."
Cumberland School of Law also ranked 10th in the nation in the
Greatest Resources for Women
category which is based on student survey responses to a question on whether all students are afforded equal treatment by students and faculty regardless of their gender.
"At Cumberland, we work very hard to provide a comfortable atmosphere where students can learn and produce at their highest level," said Whitney Dachelet, assistant dean for admission and enrollment management. "Each year, we also aim to increase diversity in our class so we can help the legal industry get closer to reflecting the community around us. Therefore, The Princeton Review's acknowledgement of this effort is appreciated and drives us to continue moving forward."