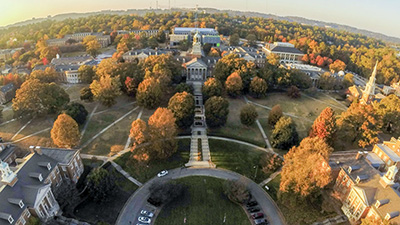 Since its founding in 1841, Samford University has grown to become the largest privately supported institution of higher education in Alabama.

Samford is a vibrant, nationally recognized academic institution with a sincere commitment to Christ-centered values. Ranked 3rd in the South for regional universities by U.S. News & World Report (2014), Samford enrolls more than 4,900 students from 44 states and 25 countries. Graduate and professional schools makeup nearly 40% of the student population on campus.

Though law students take their classes in Robinson Hall, they have access to Samford's entire 318-acre campus. Law students use the fitness center in the Pete Hanna Center, attend athletic events and enjoy music, drama and dance performances through the Wright Center Signature Series. Law students also actively participate on campus-wide intramural sports teams. They grab food, snacks and coffee in the University Center cafe and coffee bar. Most study in the Beeson Law Library, but some students like the change of scenery offered by the Davis Library.
Samford University consists of School of the Arts, Howard College of Arts and Sciences, Brock School of Business, Beeson Divinity School, Orlean Bullard Beeson School of Education, Cumberland School of Law, Ida V. Moffett School of Nursing, McWhorter School of Pharmacy, School of Health Professions and School of Public Health.
 
The Samford Bulldogs compete in 17 NCAA Division I sports as members of the tradition-rich Southern Conference. Men's sports include baseball, basketball, cross country, football, golf, tennis, and indoor and outdoor track and field. Women's sports include basketball, cross country, golf, soccer, softball, tennis, indoor and outdoor track and field, and volleyball.
The university is recognized as a premier arts provider for the region and has arts partnerships with the Alabama Ballet, the Alabama Symphony Orchestra Red Diamond SuperPOPS Series, Birmingham Chamber Music Society, Birmingham Art Museum, Superjazz Big Band and many others.