Alumni Spotlight: Dr. Ryan Rainer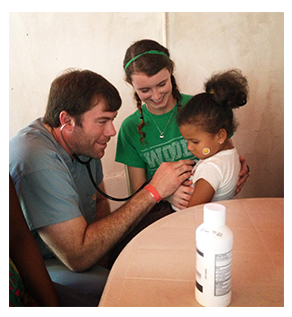 Dr. Ryan Rainer went on his first medical mission trip to Venezuela during his first year in medical school. The rest of the group was comprised of Samford nursing students. 
"I believed that international missions was part of what God had called me to do, but this trip cemented that and drove me to go on six separate trips to Venezuela," Rainer said recently. 
After completing medical school and residency at the University of Alabama at Birmingham, his life focused on his new medical practice and his young family. "Mission trips were put on the back burner," he said. 
But during the past two years, Rainer has returned to missions as part of the Samford Department of Kinesiology January Term trips to the Dominican Republic. Staffed by students and volunteer physicians, the Samford group provides free medical care to patients who might not otherwise see a doctor. 
The team moves from village to village for seven days, operating out of a mobile medical clinic to treat patients. It treats minor emergencies and conditions from surface wounds to infections. Kinesiology chair Alan Jung coordinates the efforts. 
Rainer, of Cedar Bluff, Alabama, is a 1995 graduate of Samford's Department of Kinesiology and a practicing physician in family medicine. He has been involved in Samford's sports medicine advisory council for several years. 
"It was in one of those meetings that Dr. Jung awakened that desire in me to go on a medical mission trip," said Rainer. "The point of the trip is to give some medical care and love to people who are unloved and hurting," said Rainer, and to give students "an opportunity to learn more about medicine in a raw and unhindered setting." 
Jung said Rainer is "the fulfillment of the original vision for this trip: that an alum of our department would come back as a medical professional to mentor our students while serving in the mission field." Dr. Rainer is a wonderful role model for our students and he exemplifies what I would like our students to become as professionals and as people. 
Rainer said the mission trips also awakened in him an interest in teaching college students. He recently joined the Department of Kinesiology as an adjunct professor. "
"The students of Samford have been a real blessing to me, with their eagerness to learn and their cooperative, servant spirit," he said. 
Jung said several of the physicians who travel to the Dominican Republic are parents of Samford students, including Dr. Keith Montgomery, father of Megan Montgomery, Dr. Chuck Anderson, father of Claire Anderson, and Dr. Frank Roberts, father of Callie Roberts. 
"The doctors who travel with us are amazing people," he said. "They are all great role models. They show our students what it means to have a servant heart."