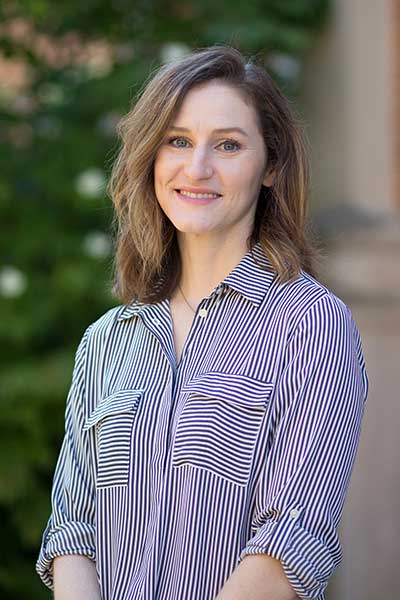 Assistant Professor
School of Health Professions
Department of Physical Therapy
2157 CHS Building 2
Kelly Atkins joined the Samford faculty in 2018 from physical therapy clinical practice. Atkins has experience working in both inpatient and outpatient neurologic settings. Her clinical interests have focused on neurologic impairment and rehabilitation, specifically spinal cord injury and stroke. Prior to her training in physical therapy, she completed her Ph.D. at the University of Alabama at Birmingham. Her research interests include impacts of exercise on neuropathic pain, preclinical modeling of neurotrauma, neuropathic pain signaling and estrogen-mediated neuroprotection. She lives in Homewood with her husband, son and stepdaughter.
Degrees and Certificates
Ph.D., neurobiology, University of Alabama at Birmingham
D.P.T., University of Alabama at Birmingham
B.S., exercise science, University of Iowa
Expertise
Inpatient and outpatient neurologic rehabilitation
Neuroanatomy/neurophysiology
Neuropathic pain signaling
Preclinical models of neurotrauma
Recent Publications
Siriphorn, A., Dunham, K.A., Chompoopong, S., Floyd, C.L. (2012). Post-injury administration of 17β-estradiol induces protection in the gray and white matter with associated functional recovery after cervical spinal cord injury in male rats. Journal of Comparative Neurology, 520(12), 2630-2646.
Dunham K.A., Floyd, C.L. (2011). "Contusion models of spinal cord injury" in Animal Models of Movement Disorders. E.L. Lane and S.B. Dunnett (eds). Springer.
Dunham, K.A., Siriphorn A., Chompoopong, S., Floyd, C.L. (2010). Characterization of a graded cervical hemicontusion model in adult male rats and the effect of post-SCI administration of 17B-estradiol. Journal of Neurotrauma, 27(11), 2091-2106.
Recent Presentations
K.D. Atkins, C.L. Floyd.  The effect of sulfasalazine on neuropathic pain following spinal cord injury.  Oral presentation:  American Spinal Injury Association international conference, Washington, DC 2011.
K.A. Dunham, C.L. Floyd.  Evaluation of system xc- in cervical spinal cord injury.  Poster presentation:  National Neurotrauma Society conference, Las Vegas, NV 2010.
K.A. Dunham, C.L. Floyd.  Functional Deficits in a Rodent Model of Graded Cervical Hemicontusion.  Poster presentation:  International Neurotrauma Society conference, Santa Barbara, CA 2009.
K.A. Dunham, C.L. Floyd.  Protective Potential of the Phytoestrogens Puerarin and Genistein in Spinal Cord Injury.  Poster presentation:  American Society for Neurochemistry conference, Charleston, SC 2008.
Research Areas
Preclinical models of neurotrauma
Spinal cord injury
Exercise and neuropathic pain
Neuroprotection