Master of Athletic Training
A career in athletic training provides you with numerous opportunities to use your skills and knowledge to improve the well-being of others. If you have an undergraduate degree in an area other than athletic training, but wish to gain requirements to become a certified athletic trainer, the Master of Athletic Training program is for you.
In just two years, you will master every aspect of athletic training, including injury prevention, injury evaluation and diagnosis, emergency care, treatment, rehabilitation and organizational administration. Metro Birmingham affords students with a number of diverse clinical opportunities in major athletic training and health care facilities as well as high schools, sports medicine clinics and more.
Our faculty and clinical preceptors are passionate about teaching and helping you achieve your professional goals. Our cohorts are small and faculty are readily available to you. At Samford, we are committed to your success and we look forward to helping you pursue a career as a certified athletic trainer.


Vision, Mission, Goals and Objectives
Vision
The vision of the athletic training education program at Samford University is to create committed, prepared servant leaders, recognized for excellence in athletic training.
Mission
The mission on the Samford University Athletic Training Program is to engage students in an interprofessional academic and clinical learning community by promoting Athletic Training excellence in health care through experiential teaching, discovery learning and evidence based practice to fulfill our calling to Christian service.
Program Goal 1: Recruitment
The program seeks to recruit, retain and place highly qualified students into the Master of Athletic Training program.
Objectives:
Recruit, admit and retain highly qualified students.
Recruit, admin and retain students who use professional judgement
Place program graduates into athletic training positions or other post-graduate educational programs
Program Goal 2: Cultural Diversity
The program seeks to foster an environment of cultural diversity and develop culturally competent practitioners who can meet the health care needs of a diverse community.
Objectives:
Recruit and admit underrepresented groups.
Develop culturally competent faculty
Provide curricular and co-curricular educational programming related to cultural competency.
Program Goal 3: Innovation
The program will use innovative teaching and learning techniques in the delivery of athletic training educational content.
Objectives:
Provide technology and support to foster the use of innovative teaching strategies
Program faculty will implement effective teaching and learning techniques
Program Goal 4: Preparation
The program will develop leaders of athletic training who are competent in content knowledge and the practical skills of an entry-level athletic trainer. Students in the program will develop an appreciation for role of continuing education and life-long learning.
Objectives:
Students will be able to demonstrate the content knowledge, practical skill application and evidence based practice of athletic training.
Students will participate in non-credit and additional learning experiences to enhance their education
Program Goal 5: Interprofessional Education / Practice
The program will develop collaborative ready practitioners through curricular and co-curricular interprofessional education and interprofessional clinical experiences.
Objectives:
Students will participate in curricular and co-circular interprofessional education experiences
Students will be able to demonstrate interprofessional competency content knowledge
Students will be prepared to work interprofessionally
Program Goal 6: Faculty Preparation
The program will develop faculty to provide a high quality athletic training educational experience.
Objectives:
Program faculty will engage in professional development
Program faculty will be prepared to facilitate student learning
Program preceptors will be prepared to facilitate student learning
Program Goal 7: Research / Scholarship
Program faculty and students will develop engage in research and provide professional presentations.
Objectives:
Students will submit an abstract to a professional conference and present a professional presentation
Program faculty will apply for grants, contribute to the profession though presentations and publications
Program Goal 8: Service
Develop an understanding of service from a Christian worldview and the importance service has within the community and profession
Objectives:
Program faculty will participate in service to the college, profession and community
The program will provide local, national and international noncredit service opportunities.
Admission Requirements
Master of Athletic Training Application
ATCAS Application Opens: June 29, 2017, at 5 p.m. EST
Application Deadline: Dec. 1, 2017
Entry Month: May 2018
Interview Date: Jan. 19, 2018
Early Decision Program: 
ATCAS Application Opens: June 30, 2017, at 5 p.m. EST
Application Deadline: Oct. 1, 2017
The application must be complete and ready for review.
Entry Month: May 2018
Interview Date: Oct. 20, 2017
Athletic Training Program Technical Standards for Admission
Academic Retention Policy
Admission to the Master of Athletic Training program is competitive.
Requirements for admission consideration include:
Baccalaureate degree or higher from a regionally accredited college or university (degree in any field), or be enrolled in your senior year of undergraduate study.
*Conditional admission: A completed bachelor's degree is required prior to enrollment, as evidenced by a final official college/university transcript. Applicants may receive a conditional acceptance with a letter from the registrar stating they have in fact completed the requirements for the degree. The "conditional" status is removed once an official transcript is received.
Minimum cumulative GPA of 3.0 on a 4.0 scale
Achieve a "C" or better in all pre-requisite courses from a regionally accredited college or university. All pre-requisite courses must have been completed within 10 years prior to application.
Required pre-requisite courses include:

Anatomy & Physiology I & II with labs
General Psychology
Motor Learning or Biomechanics
Kinesiology
Exercise physiology 
Health/Wellness
Statistics
Chemistry, physics, pathophysiology and research design are recommended
CPR - Must be one of the following:

Professional Rescuer & AED by the American Red Cross
BLS Healthcare Provider CPR by the American Heart Association
CPR PRO for the Healthcare Professional by Health & Safety Institute

Graduate Record Examination score (within the past 5 years) with minimum scores of:

Verbal: 153
Quantitative: 144
Analytical: 4.0.
Applicants must self-report their GRE scores in ATCAS and submit official GRE records to Samford University at code: 1779

50 hours of documented volunteer/shadowing experience with a certified athletic trainer
Three letters of reference through the ATCAS application system. References should be from 1) current or previous professor, 2) work supervisor, 3) a Certified Athletic Trainer
On campus interview
Upon acceptance, a non-refundable fee of $500 is required to secure admission into the program. This fee is applied to the first semester's tuition.
International applicants or American citizens who learned English as a second language must score at least 550 (paper), 213 (computer) or 80 (Internet) on the Test of English as a Foreign Language (TOEFL). International applicants must also obtain a score of 27 or better on the iBT speaking subtest of the TOEFL or a 50 or better on the Test of Spoken English. For more information, please visit www.toefl.org. We cannot issue an I-20 for this program at this time.
Application Process
The steps below outline the application process for the Master of Athletic Training program. To apply, you are required to submit both an application through ATCAS as well as the Master of Athletic Training Supplemental Form.
Before starting these applications, we recommend that you complete the following checklist:
Obtain student copies of your college transcripts to assist you in completing the coursework section for the application.
Before you begin your application, please review the ATCAS Instructions & FAQs
Request official transcripts from each institution attended by using the transcript request form in ATCAS.  Complete the form, submit it to the registrar's office of each institution attended and instruct them to enclose the form with your official sealed transcript. Transcripts must be sent to the ATCAS Transcript Department. ATCAS accepts official transcripts sent directly from the registrar's office only. Please send transcripts as early as possible and no less than four to six weeks before the application deadline due to the time needed by ATCAS to verify your application. Send transcripts to:
ATCAS Verification Department
PO Box 1932
Watertown, MA  02471
Pay the initial service fee of $85 when submitting the ATCAS application.
Obtain three letters of recommendation from 1) current or previous professor; 2) supervisor; and 3) an Athletic Trainer. These letters of recommendation must be submitted through ATCAS. The references should attest to the applicant's academic ability and potential.
Self-report GRE scores to ATCAS and send official scores to Samford University Code 1779.
On campus interview
Please complete application in its entirety.
Exceptions to any admission requirements will be handled on an individual basis.
ATCAS Customer Service Information
Available Monday through Friday, 9:00-5:00 EST
617-612-2075 
atcasinfo@liaisoncas.com
For more information regarding the admission process, please contact:
Dr. Marian Carter
Assistant Dean of Enrollment Management and Student Services
205-726-2611 
mwcarter@samford.edu  
Outcomes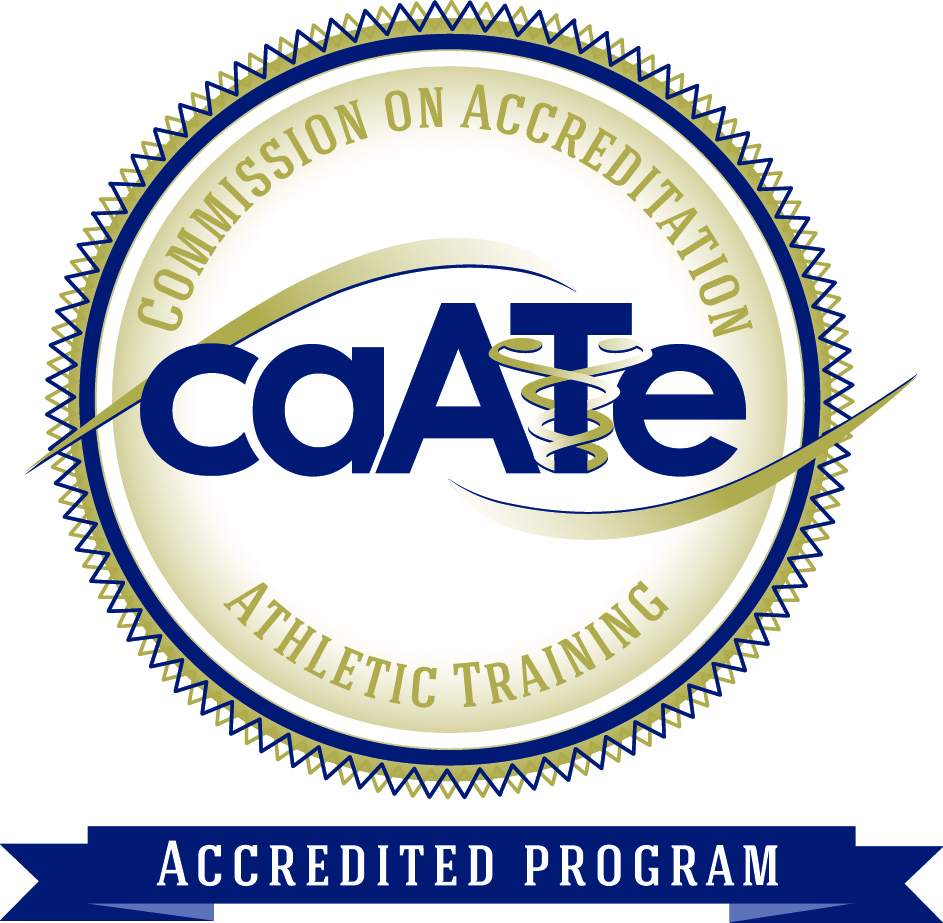 The Graduate Athletic Training Program at Samford University is accredited by the Commission on Accreditation of Athletic Training Education (CAATE). The CAATE is recognized as an accrediting agency by the Council of Higher Education (CHEA). After the comprehensive review for initial  program accreditation, the program was granted the maximum 5-year accreditation for new programs. The next comprehensive review is scheduled for 2022-2023 academic year.
There have been no students challenge the Board of Certification, Inc. exam. The program will post student outcome data here as it becomes available.
Clinical Education
In the athletic training program, your education will extend far beyond the classroom. You'll take what you learn in the classroom and apply it to a variety of clinical settings around Birmingham, one of the country's most advanced health care communities. You'll gain experience in a variety of environments, including high school athletic departments, university athletic departments, sports medicine clinics, rehabilitation clinics and physicians' offices.
Plan of Study
Tuition and Fees
Master of Athletic Training tuition, per credit each semester/term - $813
Technology Fee, per semester - $175
Campus life fee, per semester - $100
Life in the Program
"Samford University's Athletic Training program is a genuine practical experience. You are placed at a clinical site, and the information that you are taught in the classroom is reinforced in a real-life, on-the-field experience. The confidence that you gain is unbelievable, and the tools that you are given prepare you for anything that you may face. When you pair the experience of the program with the growth of your faith and life skills, you find a program for life. The faculty knows your name. They know you. You are not just a number. The entire Samford community wants you to succeed in your career and your life."
Justin Moody, class of 2013 
Our Commitment
"The Samford experience is distinctive for a number of reasons.  Undergraduate students in the athletic training program receive a hands-on experience from practicing clinicians with a small student to professor ratio. Our courses have hands-on aspects to facilitate understanding and allow the student to learn clinical skills before transitioning either into the profession or to a professional school. Another distinctive of the department is the undergraduate research component. All students will complete an original research project with furthers their understanding of the research process, but also teaches students to think critically."
Dr. Robert Hensarling, ATC
Associate Professor
Director, Athletic Training Education