Published on June 4, 2014 by Katie Stripling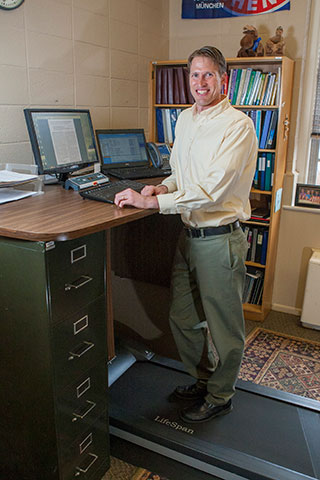 Samford professor Alan P. Jung, chair of the kinesiology department, uses a treadmill instead of a chair and desk at his primary workstation. The purpose is not to exercise, but rather to reduce sitting time.
According to Dr. Jung, recent research suggests that sitting time is an independent risk factor for heart disease. "What this means is that increased sitting time increases the risk of heart disease even if you exercise that day," he said. "Much like exercise does not undo the damage done by smoking, exercise also does not undo the damage done by prolonged sitting. I still exercise each day."
Although located at his primary workstation, the treadmill is not necessarily Jung's chair. It replaces the chair and allows him to walk while he works. "It is similar to a standup desk, except I am walking rather than simply standing," he said.
"I feel like I have more energy at the end of the day because I walk," he said. "In the past, prolonged sitting has caused back pain and leg pain, but that has gone away since I have started walking at my desk."
Jung, a Samford faculty member since 2006, earned his bachelor's degree from James Madison University, master's in exercise science from Appalachian State University and Ph.D. in exercise physiology from the University of Alabama.