Published on July 6, 2016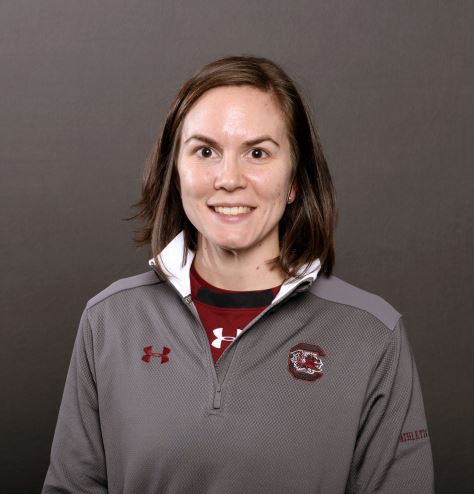 Degree/Year: B.S., athletic training, 2008
Current Position: Staff Athletic Trainer, University of South Carolina
Describe your journey from Samford to your position at the University of South Carolina. Upon graduation in May 2008, for the first time since I declared an athletic training major as a freshman, I was not sure if I wanted to actually be an athletic trainer. Thankfully, I already had plans to serve as a camp counselor for Lifeway at Centri-Kid/Crosspoint for the summer. I figured I would figure out the rest of my life along the way. Besides running summer camps, the student events department at Lifeway also hired a few interns each year. Being encouraged to apply by some of our camp administrators, I received a position and served as the student events marketing intern for the following year. Based out of Nashville, I moved back in with my parents and spent the next year promoting our events and camps. During the year, I received my Tennessee athletic training license, but never practiced in the state.
Later that year I went back to Samford for a football game. It was during this visit that I decided I did want to be an athletic trainer. I'm not sure if this was the moment I also determined I wanted to work football or not, but it definitely influenced my decision to go back to graduate school. When I got back to Tennessee, I began looking into graduate programs. I knew that I wanted to complete my graduate work and assistantship at a larger school in order to have a significantly different experience than I did at Samford. Having grown up watching SEC football, I focused most of my search on these schools.
In the spring of 2009, I had multiple phone and on campus interviews with a variety of schools including Auburn, Kentucky, South Carolina and Alabama. I received a few offers but the University of South Carolina was the only school that told me when they offered that I was being hired to be one of the graduate assistants with the football team. This was the primary reason I chose South Carolina. I didn't even know Coach Spurrier coached there at the time.
I began orientation at USC on July 15, 2009. Both football staff athletic trainers had just recently left for other jobs so when I showed up on campus our Director of Sports Medicine was responsible for the team. The new head and assistant athletic trainers were hired just a few weeks later and this would turn out to have a significant effect on my career as the relationships I built with them while we were all learning a new place and putting in a new system together were the strong foundation that made my transition to full-time staff pretty seamless two years later.
Following my year as a graduate assisatnt with football, I was selected to be a preseason intern for the Tennessee Titans. I spent six weeks in Nashville working with them from July to September. Former Samford Bulldog Cortland Finnegan was playing for them at the time. Back in South Carolina, I spent my second year as a graduate assistant as the head athletic trainer for a local high school, W.J. Keenan High.
As I prepared to graduate with my master's degree, I knew that I wanted to work football, but these jobs are very hard to come by and I knew it was a long shot for someone coming straight out of graduate school. I applied for all the ones that came up as well as applying for other sports at the college. I had a few interviews over the summer. Most jobs I didn't get, but there was also a softball job I turned down because I just didn't feel right about it. I can't explain the depth of desire I had to work football and specifically to do it at the University of South Carolina. It was a very challenging and unsettling couple of months – but it is incredible how God works. As a result of some earlier conversations and the recognition of an unmet staffing need at University of South Carolina, a new position was created for a third athletic trainer to be hired to cover the football team. Being in the right place at the right time and most importantly having built the right relationships, I was hired for this position. I have been here ever since, 5 seasons later.
What do you enjoy most about your work? This is such a hard question to answer. I don't think I could narrow it down to one thing, but a couple reasons are:
The relationships – I get the opportunity to know the real guy…not just the player as he is portrayed by the media or superficially as just a regular fan.
The variety – My days never look the same and every day brings something completely new whether it is a new problem to solve or a new project to undertake.
How did Samford prepare you for your career as an athletic trainer? Besides the knowledge and degree needed to become a certified athletic trainer, I made valuable connections through my time at Samford. One of these connections was Jake Jordan, the head athletic trainer at Mt Brook High School where I did one of my clinical rotations. Little did I know 2 years after working with Jake when I was applying for NFL internships, Jake knew the assistant athletic trainer at the Tennessee Titans. Having Jake as a reference went a long way in getting me that internship. This relationship continues as Jake serves as medical coordinator for all championships in the SEC. Another connection from Samford helped as well with the Titans internship as Cortland Finnegan played for the Titans at the time and was also asked about whether they should hire me so I'm told…he must've put in a good word.
Working with Wayne Kendrick, Samford's former head athletic trainer, also greatly prepared me for the task and responsibility of managing people. I have never worked for such a kind and selfless individual and I pray that throughout my career I manage to emulate at least a little bit of these character traits.
Finally, the intensive research project that I had to complete during my senior year significantly helped me during the process of researching and writing my master's thesis.
What advice do you have for students pursuing careers in athletic training or in college athletics? This is a tough profession at any level. They need to have an internal motivation for doing the job well because as in most any service professions, the money and the external praise will never be enough to sustain you. But the rewards are so worth it – getting to help athletes get back to what they love to do and building incredible relationships along the way – and the superficial perks in my setting aren't so bad either (watching SEC football for free, game tickets for friends and family, etc.).