Samford University and its Cumberland School of Law partner to offer an established 3+3 program for aspiring lawyers to accelerate their undergraduate and law degree tracks, allowing them to earn their bachelor's degree and Juris Doctor in six years rather than the traditional seven.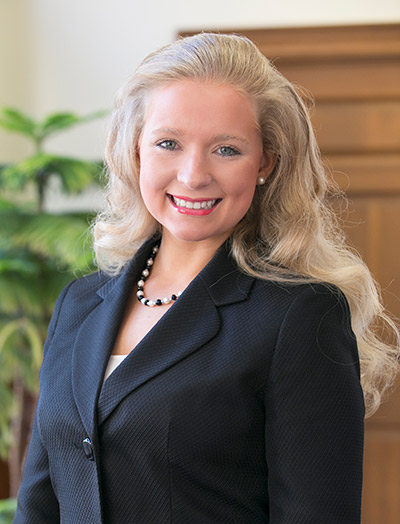 The 3+3 program is the perfect choice for the student who knows that law school is his or her next step after college. For me, it was truly an answer to prayer. It saved me both time and money, and it allowed me to achieve my ultimate career goals at an excellent school in only six years.
Holly Howell Brasher '16, J.D. '18
How It Works
A prospective student who has completed all university core, general education and major core requirements, as defined by the department of his or her major, may begin law school after completing three years of undergraduate work and gaining admission to Cumberland School of Law. The student must obtain written approval from the department head to ensure all required courses will be completed before the student finishes his or her third year of college. The student must only have elective courses remaining for his or her senior year. After successful completion of the first year of law school classes, the student is awarded a bachelor's degree in his or her undergraduate major.
A student seeking admission to the law school under the accelerated law degree program uses the normal law school application process. The student should have a Law School Admission Test (LSAT) score equal to or better than the median score of the current first year law school class and should have a cumulative Grade Point Average of 3.0 or higher. The optimal time to submit the law school application is before December 31 of the student's junior year.
Students complete the standard law school curriculum of 30 credit hours during their first year at Cumberland. Some work is credited toward their undergraduate major and other work is credited toward their upper level electives. If a student chooses to leave Cumberland School of Law prior to completion of the first year, any successfully completed law school courses will apply toward a bachelor's degree.
For Samford University applicants, the first year of law school will be funded by the student's fourth year of Samford University undergraduate scholarship. If the Cumberland School of Law scholarship award is higher than the Samford undergraduate award, Cumberland will close the gap. The student will not receive both the undergraduate award and the full Cumberland award in the first year. Cumberland will fully fund the second- and third-year scholarship award in the amount awarded by Cumberland. Students in the law school program are classified as graduate students and are eligible for greater federal aid and higher loan limits.
Samford University Prelaw Program
Samford University's prelaw program has an excellent record of sending graduates to the nation's best law schools, including Cumberland School of Law. The well-designed prelaw opportunities play an important role in that success.
Interested in learning more about Samford's prelaw program and the 3+3 accelerated track? Please meet with your major adviser to make sure you can successfully complete the requirements to be eligible for the 3+3 program. You are also encouraged to meet with assistant professor and prelaw adviser Marissa Grayson, mgrayson@samford.edu, or set up a time to meet with Cumberland's Office of Admission.
Visit Campus
If you already know that law school will be your next step after college, you are welcome to set up a time to tour the Cumberland School of Law facilities while you're visiting Samford University's campus.
Simply contact the Cumberland's Office of Admission to set up your tour. During your visit you will be able to tour the facilities, observe a law school class, meet current law students and meet with the admission office.
Other 3+3 Partnerships