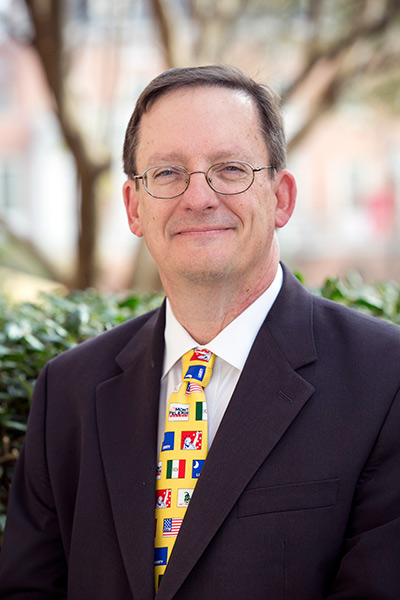 Stephen Everett Wells Professor of Municipal Law
Cumberland School of Law
220 Robinson Hall
Professor Michael DeBow is a native of Tupelo, Mississippi. He received his bachelor's and master's degrees in economics from the University of Alabama. He graduated from the Yale Law School in 1980, and is a member of the District of Columbia Bar.
DeBow's career included a stint in private practice in Washington, D.C., followed by a judicial clerkship with Judge Kenneth W. Starr of the U.S. Court of Appeals for the Washington, D.C. Circuit in 1983-84. DeBow then served as an attorney-adviser to Federal Trade Commission chairman James C. Miller III (1984-85), and a special assistant to assistant attorney general Douglas Ginsburg, in the Antitrust Division of the U.S. Department of Justice (1985-86). 
DeBow began his teaching career at the University of Georgia business school, where he taught for two years prior to coming to Samford University Cumberland School of Law in 1988.  He was named the Stephen Everett Wells Professor of Municipal Law in 2018.  DeBow regularly teaches the required courses in Real Property and Business Organizations, along with several elective courses.   
In 2021 DeBow was named a fellow of the Manuel H. Johnson Center for Political Economy at Troy University.  From 2014-16, he was the (part-time) associate director of the Center for College Affordability and Productivity.  From 2000-04, DeBow was a (part-time) special assistant for legal policy to Alabama attorney general Bill Pryor.  In 1999 he was a visiting professor of law at George Mason University.
DeBow's articles have appeared in such journals as the Texas Law Review, Harvard Journal of Law & Public Policy, Regulation, Policy Review, The Freeman, and the Journal of Law & Politics. He is co-editor of the Federalist Society's Pre-Law Reading List and its annotated bibliography of conservative and libertarian legal scholarship.

DeBow's wife, Rebecca, is an Episcopal priest and currently the interim rector of St. Andrew's Church in Birmingham. They have two adult children and two grandchildren
Teaching & Research Interests
Property, Business Organizations, Administrative Law, Legislation and Local Government
Bar Membership
District of Columbia
Practice Experience
Judicial Clerkship; Judge Kenneth W. Starr, U.S. Court of Appeals for the D.C. Circuit, 1983-84
Private Practice, Washington, D.C.
Attorney-Adviser, Federal Trade Commission
Special Assistant, Assistant Attorney General Douglas Ginsburg
Degrees and Certifications
JD, Yale Law School, 1980
MA, University of Alabama, 1978
BA, University of Alabama, 1976