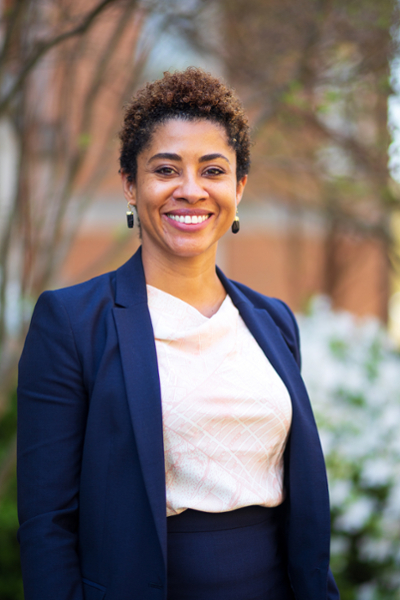 Assistant Professor of Law
Cumberland School of Law
239E Robinson Hall
Chinelo Diké-Minor joined the Cumberland School of Law faculty in January 2021 where she teaches criminal law, criminal procedure and a variety of health law courses.  Her research interests focus on gaps in criminal healthcare fraud and abuse laws and grand jury and right to counsel issues in criminal procedure.  She received her undergraduate degree from Wesleyan University and her law degree from Yale Law School. 
Since joining Cumberland, Diké-Minor has received the Harvey S. Jackson Excellence in Teaching Award for upper-level courses (2021-22) and in relation to her research and writing, was selected as a Health Law Scholar for the 2022 Annual Health Law Scholars Workshop co-sponsored by American Society of Law, Medicine and Ethics and the Saint Louis University School of Law Center for Health Law Studies. 
Prior to joining Cumberland, Diké-Minor served as an assistant United States attorney for the Northern District of Alabama where she worked for eight years. There, she was the criminal division's health care fraud coordinator and successfully prosecuted multiple health care fraud and opioid prescribing cases.  For that work, she received several awards including the Department of Health and Human Services Inspector General Award for Excellence in Fighting Fraud, Waste and Abuse (2022 – awarded post-service), the U.S. Attorney's Office Special Act Award for Sustained High-Level Performance (2019), and the National Health Care Anti-Fraud Association Special Investigative Resource and Intelligence System Investigation of the Year Award (2017).
Prior to becoming a prosecutor, Diké-Minor practiced civil and criminal litigation at Debevoise & Plimpton LLP in New York City for several years.
Before that, she clerked for the late Honorable Judge Mark Kravitz in the District of Connecticut and for the Honorable Rosemary Pooler on the U.S. Court of Appeals for the Second Circuit. 
Degrees and Certifications
JD, Yale Law School
BA, Wesleyan University
Teaching & Research Interests
Gaps in criminal health care fraud and abuse laws (health law)
Grand jury and right to counsel issues (criminal procedure)
Publications and Works-in-Progress
The Untold Story of the United States' Anti-Kickback Laws, 21 RUTGERS J.L. & PUB. POL'Y 103 (2023).
The Devil Made Me Do It: An Argument for Expanding the Anti-Kickback Statute to Cover Private Payers, 56 CONN. L. REV. __ (forthcoming Dec. 2023).