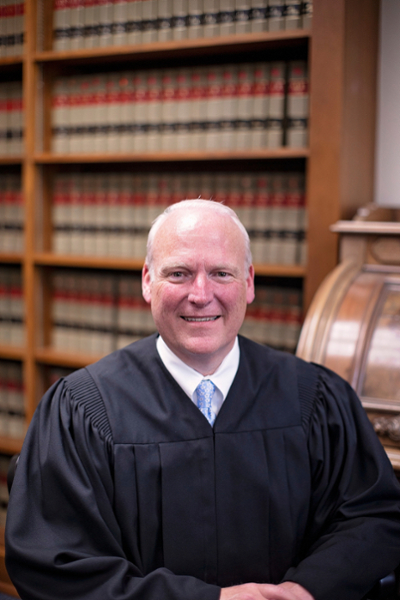 Director of National Trial Teams
Cumberland School of Law
Honorable James H. (Jim) Roberts Jr. is a circuit court judge for the Sixth Judicial Circuit of Alabama and presides over both civil and criminal cases ranging from drug possessions to Capital Murder and car wrecks to Medical Malpractice. Judge Roberts was appointed by the governor in February 2011 and has twice been elected to full terms. In January 2014, Judge Roberts was elected to a three-year term as presiding judge for the Sixth Circuit by his fellow circuit judges.
Prior to his appointment, Judge Roberts was a partner at Turner, Webb & Roberts, P.C. where he practiced both civil and criminal law and represented clients in both state and federal courts. Before entering private practice, Judge Roberts was an assistant public defender in the Tuscaloosa County Office of Public Defender. He is a 1994 graduate of Samford University Cumberland School of Law.
Judge Roberts is the director of National Trial Teams at Cumberland School of Law where he has coached national trial teams since 1998. During his tenure as director and coach of the National Trial Team program, Cumberland's trial teams have won numerous regional and national trial competitions, several professionalism awards, many individual advocacy awards and Judge Roberts has greatly expanded Cumberland's trial advocacy program. Cumberland has been consistently ranked as one of the top 10 trial advocacy programs in the country by U.S. News & World Report, the Fordham Trial Performance Rankings, and the Hofstra GAVEL Rankings for trial advocacy.
Judge Roberts serves on the Board of Directors for the Tournament of Champions sponsored by the National Institute of Trial Advocacy and served on the organizational committee which created the National Association of Legal Advocacy Educators (NALAE). Upon the formation of NALAE, Judge Roberts was elected to serve on the inaugural Board of Directors for that organization.
In 2022, Judge Roberts was selected by the nationwide community of advocacy educators as only the third recipient of the Cornerstone Award which recognizes unwavering commitment to protecting the right to trial by jury and the development of training opportunities for trial lawyers. Also in 2022, Judge Roberts was recognized by the American Association of Justice (AAJ) with a special award for his work with AAJ to revive the Student Trial Advocacy Competition.
Before taking the bench, Judge Roberts served as president of the Alabama Criminal Defense Lawyers Association (ACDLA). While a member of ACDLA, Judge Roberts became the first two-time Merit Award winner which recognizes outstanding trial performance by a member-attorney for representing persons accused of a crime in extremely difficult and public cases. While president of ACDLA, Judge Roberts started the associations legislative arm and served as a lobbyist for the organization. Additionally, Judge Roberts drafted two bills which were eventually passed into law, including Alabama's first Expungement statute.
Judge Roberts has also served as president of the Tuscaloosa County Bar Association and been a member of the Board of Directors of Legal Services Alabama, the Alabama Inter-Departmental Public Safety Commission, the Alabama Drug Court Task Force, the Alabama State Bar Criminal Mediation Task Force, the Tuscaloosa County Domestic Violence Task Force, and as a member of the faculty of the Georgia Criminal Defense College.
Judge Roberts currently serves as a member of the Alabama Supreme Court's Advisory Committee for the Alabama Rules of Evidence, the Alabama Indigent Defense Review Committee and the Circuit Judges Association's Diversity Equity and Inclusion Committee.