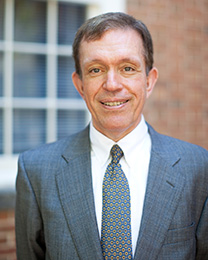 Albert P. Brewer Professor of Law and Ethics
Cumberland School of Law
210B Robinson Hall
William G. Ross is the Albert P. Brewer Professor of Law and Ethics at Samford University's Cumberland School of Law in Birmingham, Alabama, where he has taught since 1988. His courses include professional responsibilities, civil procedure, constitutional law and American legal history. A graduate of Stanford University and the Harvard Law School, Ross was a litigator in law firms in New York City from 1979 until 1988. He has served as a visiting professor of law at Notre Dame (2001­-02), Florida State (summer 2002); and Georgia State (spring 2000). Ross has written extensively on legal ethics, American legal history and the federal judicial appointments process.

A nationally-recognized expert on the ethics of legal fees and judicial ethics, Ross is the author of two books on attorney billing issues, The Honest Hour: The Ethics of Time-Based Billing by Attorneys (Carolina Academic Press, 1996) and Legal Fees: Law and Practice (with John W. Toothman, Carolina Academic Press, 2003), as well as numerous articles about legal fees and judicial ethics. His Honest Hour book was cited by the U. S. Supreme Court in Gisbrecht v. Barnhart (2002). Ross often serves as a consultant and expert witness regarding legal fees and judicial ethics.

Ross is also a specialist on American constitutional history. His most recent book is World War I and the American Constitution (Cambridge University Press, 2017). He is also the author of A Muted Fury: Populists, Progressives and Labor Unions Confront the Courts, 1890–1937 (Princeton University Press, 1994), Forging New Freedoms: Nativism, Education, and the Constitution, 1917–1927 (University of Nebraska Press, 1994), and The Chief Justiceship of Charles Evans Hughes 1930–1941 (University of South Carolina Press, 2007). Ross also has published many articles and book reviews about American legal history.

Also an authority on federal separation of powers issues, Ross has published many works on the appointment of U.S. Supreme Court justices and other federal judges. His Muted Fury and Hughes books and several of his articles explore the relationship between Congress and the Supreme Court, particularly the dynamics of movements to curtail the powers of the federal courts.

Ross has been quoted as an expert on ethical and constitutional issues in various publications, including The Wall Street Journal, The New York Times, The Washington Post, USA Today, U.S. News & World Report, and The ABA Journal. He also has been interviewed on CNN and C-SPAN. His publications have been cited in approximately one thousand scholarly articles and books.

Professor Ross loves to teach. He received Cumberland's Harvey S. Jackson Award for Excellence in Teaching in 2005, 2016, 2017 and 2021, and he was a co-recipient in 2012.
Teaching & Research Interests
Professional Responsibilities, Civil Procedure, Constitutional Law & American Legal History
Degrees and Certifications
JD, Harvard Law School
AB, With Distinction, Stanford University
Awards and Honors
Harvey S. Jackson Award for Excellence in Teaching, 2005, 2012 (co-recipient), 2016, 2017 and 2021