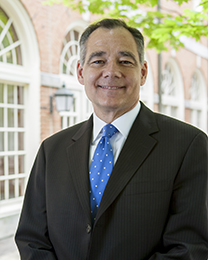 Ethel P. Malugen Professor of Law
Cumberland School of Law
210 Robinson Hall
A native of metropolitan Atlanta, Dean Strickland received his undergraduate degree, summa cum laude, from Presbyterian College and his law degree from Vanderbilt University Law School. While at Vanderbilt, he served as articles editor and executive editor of the Vanderbilt Law Review.

Following law school, Corky Strickland served for two years as judicial law clerk for the Honorable Virgil Pittman, United States District Judge for the Southern District of Alabama. He then practiced law in the Charlotte, North Carolina law firm of Parker Poe Adams & Bernstein, where he specialized in business and commercial litigation. He was admitted to practice law in Georgia and North Carolina.

Strickland joined the Cumberland faculty in 1988. He regularly teaches courses on Alternative Dispute Resolution, Civil Procedure, and Conflict of Laws, and he also has taught courses on Constitutional Law and Remedies. His primary research interests include arbitration law, constitutional law, and legal education, and he continues to write and speak on those topics. Strickland served as Cumberland's associate dean for academic affairs from 2001-11 and as dean from 2014-22.

Since joining the Cumberland faculty, Strickland has continued to serve regularly as an arbitrator and a mediator in programs administered by the American Arbitration Association, the Better Business Bureau, and others. He also has delivered bar review lectures for BarBri, Inc. since 1995. He now delivers lectures for BarBri on civil procedure, conflict of laws, or remedies in thirteen cities in seven states.
Teaching & Research Interests
Alternative Dispute Resolution, Civil Procedure, Conflict of Laws, Constitutional Law, Remedies, Arbitration & Legal Education
Degrees and Certifications
JD, Vanderbilt University Law School
BA, Presbyterian College, summa cum laude