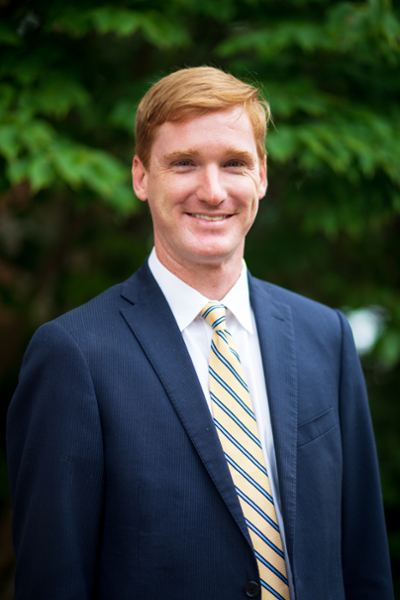 Assistant Professor of Law and Assistant Director of Advocacy Programs
Cumberland School of Law
301G Robinson Hall
Matt Woodham is an assistant professor of law and assistant director of advocacy programs at Cumberland School of Law. 
Woodham, a member of Cumberland School of Law's class of 2015, has extensive litigation experience through his previous work as an assistant public defender for Tuscaloosa County. In that role, he represented clients charged with offenses ranging from DUI to capital murder. He also taught in-office seminars on evidence and cross examination and was a National Criminal Defense College graduate. 
While working at the Tuscaloosa County Public Defender's Office, Woodham volunteered as a coach for Cumberland's National Trial Team. He participated in coaching teams that won numerous awards and competitions including: 
Winner of the 2017 National Trial Advocacy Competition;
Semifinalist at the 2018 National Trial Advocacy Competition;
Regional Champions of the 2018 National Trial Competition;
Finalist at the 2019 Capitol City Challenge and best advocate award recipient;
Semifinalist at the 2019 Lone Star Classic; 
Best Advocate Award recipient at the 2020 Capitol City Challenge; and 
Third place finish at UCLA's The Verdict Trial Competition, where scores were assigned by lay jurors.
Woodham's success as a coach correlates to his success as a student. While in law school, he was the third-year class president, an associate editor of the Cumberland Law Review, and graduated in the top 5% of his class. As a member of the National Trial Team, he and his fellow teammates won the 2014 National Trial Advocacy Competition (NTAC), and were the National Trial Competition (NTC) regional winners and national semifinalists in 2015. Individually, he received the Best Closing Argument Award at the 2015 NTC regionals, was a Parham Williams Freshman Trial Competition winner, and received the Michael Rasmussen Excellence in Advocacy Award.
As a member of Cumberland's faculty, Woodham wrote the casefiles used in the 2022 and 2021 Tournament of Champions Trial Competition, in which only the top 16 advocacy programs are invited to participate.  Woodham additionally writes the yearly supplement to the Trial Handbook for Alabama Lawyers.