Published on October 24, 2018 by Michael Pasquarello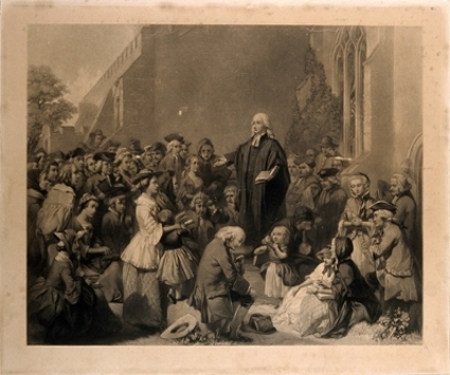 Dr. Michael Pasquarello, Methodist Chair of Divinity and Director of the Robert Smith Jr. Preaching Institute, examines the preaching life through the preaching ministry of John Wesley. Dr. Pasquarello presented this lecture as part of Beeson's series "From Text to Sermon." 
In 1756, after thirty years of preaching and pastoral ministry, John Wesley published An Address to the Clergy, an open letter to the clergy of the established Church, Methodist preachers and ministers from other traditions in England. Wesley calls attention to the character of pastoral ministry and the kind of exemplary knowledge and virtue that serve as fitting instruments of Christ's truth and goodness. Pointing to the reconciliation of doctrine and life, Wesley affirms a kind of practical wisdom that involves pastors in a way of thinking, speaking, and acting that springs from the devotion of both heart and mind to God. 
What is a Minister of Christ, a shepherd of souls, unless he is devoted to God?  Unless he abstain, with the utmost care and diligence, from every evil word and work; from all appearance of evil; yea, from the most innocent things, whereby any might be offended or made weak?  Is he not called, above others, to be an example to the flock, in his private as well as public character; an example of all holy and heavenly tempers, filling the heart so as to shine through the life? … Do I understand my own office?  Have I deeply considered before God the character which I bear?  What is it to be an Ambassador of Christ, and Envoy from the King of heaven?  And do I know and feel what is implied in 'watching over the souls' of men 'as he that must give an account?'[1] 
Appropriating the knowledge of Scripture in life and ministry both requires and leads to practical wisdom, expressions of "doctrine coming to life" that are manifested in living faith that works through love.  Such "knowing in action" is dependent upon the presence of the Holy Spirit who cleanses the eyes of the heart to enable loving attentiveness to God's Word in Scripture and God's work in the lives of people. 
Consequently, is not his whole life, if he walks worthy of his calling, one incessant labor of love; one continued tract of praising God, and helping man; one series of thankfulness and beneficence?  Is he not always humble, always serious, though rejoicing evermore; mild, gentle, patient, and abstinent? … Is he not one sent forth from God, to stand between God and man, to guard and assist the poor, helpless children of men, to supply them both with light and strength to guide them through a thousand known and unknown dangers, till at the appointed time he returns, with those committed to his charge, to his and their Father who is in heaven?[2] 
Wesley encouraged pastors to immerse themselves in prayerful study of Scripture to receive its saving wisdom and to speak its truth in love. This way of reading nurtures the formation of a certain kind of person endued with the disposition and virtue of love - to God and the neighbor in God - which enables the attunement at the heart of one's way of being and living; the deep affections that are the wellspring of desire and action in perceiving and responding to God's presence in the particular circumstances of life.
Am I … such as I ought to be, with regard to my affections?  I am taken from among, and ordained for, men, in things pertaining to God.  I stand between God and man, by the authority of the great Mediator, in the nearest and most endearing relation both to my Creator and to my fellow creatures.   Have I accordingly given my heart to God, and to my brethren for his sake?  And my neighbor, every man, as myself?  Does this love swallow me up, possess me whole, all my passions and tempers, and regulate all my faculties and powers?  Is it the spring which gives rise to all my thoughts, and governs all my words and actions?[3]
Articulating a theologically wise and spiritually rich way of Christian life and ministry, Wesley affirmed the union of learning and devotion which illumines the mind and heart in nurturing acquaintance with the "treasuries of sacred knowledge."  Thus, in following the way of holiness the affections are purified and reoriented to God through the transformation of one's thoughts, words, and actions, or whole "conversation."  Such formative study of Scripture induces the knowledge and love of God in Christ which is the means and measure of Christian faith and ministry.
Ought not a 'steward of the mysteries of God,' a shepherd of the souls for whom Christ died, to be endued with an eminent measure of love to God and love to all his brethren? A love the same in kind, but in degree far beyond that of ordinary Christians?  Can he otherwise answer the high character he bears, and the relation wherein he stands?  Without this, how can he go through all the toils and difficulties which necessarily attend the faithful execution of his office?  Would it be possible for a parent to go through the pain and fatigue of bearing and bringing up children were it not for that vehement affection … which the Creator has given for that very end?  How much less will it be possible for any Pastor, any spiritual parent, to go through the pain and labor of 'travailing in birth for,' and bringing up, many children to the measure of the full stature of Christ, without a large measure of that inexpressible affection ...![4]
Watch the complete lecture from Dr. Pasquarello below:
[1] "An Address to the Clergy," The Works of John Wesley, M.A., ed. Thomas Jackson (Grand Rapids: Zondervan, 1958 - 59) 10:487-88, 491.
[2] Ibid. 488 - 9.
[3] Ibid. 498.
[4] Ibid.. 486-7.