Published on November 20, 2020 by David Parks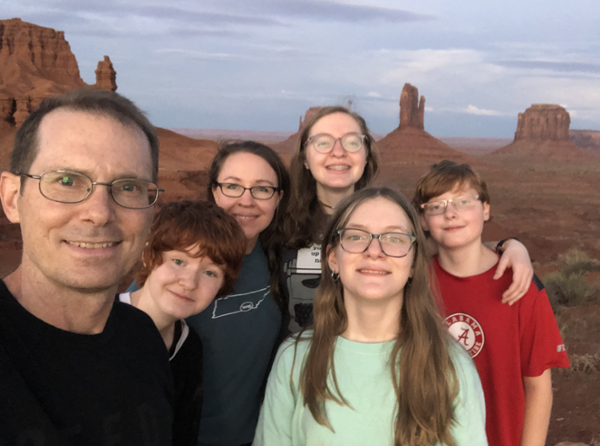 Dr. David Parks is today's Friday Faculty Feature. He is the director of Global Center and Contextual Learning at Beeson. Dr. Parks is married to Jenn, and they have four children.
Where are you from?
I grew up in the northeast side of Birmingham, Huffman, specifically. Huffman Baseball Park. Huffman Middle School. Huffman High School. And Huffman Baptist Church. I played on the tennis team at Jefferson State ("Junior College," back then) in Center Point and then transferred to Samford. After my bachelors, I studied at Beeson.
Tell is about your roles at Beeson.
My newest role is leading the Supervised Ministry Practicum (SMP). This is the one-year internship, served mostly in local churches, that all Master of Divinity students take. Although I lead it, the real heroes are the local ministers who are training our students in hands-on ministry. As director of the Global Center, it is my mission to encourage, connect and equip the campus and community for cross-cultural and global mission. This is accomplished through a variety of means. We direct the two-week "Cross-Cultural Ministry Practicum," where students travel to one of many ministry destinations to learn what gospel ministry looks like in different cultures. We oversee the "missions certificate" program for students called to cross-cultural ministry, and we provide a wide range of events throughout the year.
What course(s) do you teach, and what excites you about them?
The only course I teach is Introduction to Christian Missions. You'd think that I would be tired of it by now, but that hasn't happened yet. Beeson students are typically smart and, especially if they've already been here a year or two, they have a significant amount of biblical knowledge. Teaching missions doesn't add to the light emanating from the Word of God, but it opens up windows into worlds they don't yet know exist, and they are then able to then see how the Word is both relevant and illuminating into the furthest and even darkest corners of the globe. My favorite assignment for them is to interview someone from another country and with another religious background. After asking the questions I give them about culture and beliefs, my students learn things they never would have thought to ask and, at the same time, come away encouraged with the universality of the gospel message.
What is a fun fact people may not know about you?
I have always found endless uses for twisty ties. Did you realize they can keep your mask from being sucked into your nostrils every time you take a deep breath?!?! I am convinced that one day twisty ties will somehow save the world.
Why Beeson?
As a missionary in Southeast Asia, the percentage of Christians were low enough to feel the futility of unnecessary divisions in the body of Christ when it was obvious we needed to work together. This often meant partnering with other denominations. Of course, you can't partner with everyone, so this meant that I needed to intuitively understand the difference between Christians who had other convictions about second-tier issues and those who simply didn't believe the core of the gospel. There was never a significant adjustment period for me regarding this issue because my experience at Beeson Divinity School made this second nature. The other thing that has been a great benefit to me over the years is our rootedness both in the Bible and the historic church. I'm a pragmatic Christian leader by nature, which can be a strength. When unchecked, it can also lead to a life of chasing the latest useless fads at best and the embracing of attractive heresies at worst. Beeson saved me from much needless heartache.