Published on March 11, 2022 by Anton Ivanov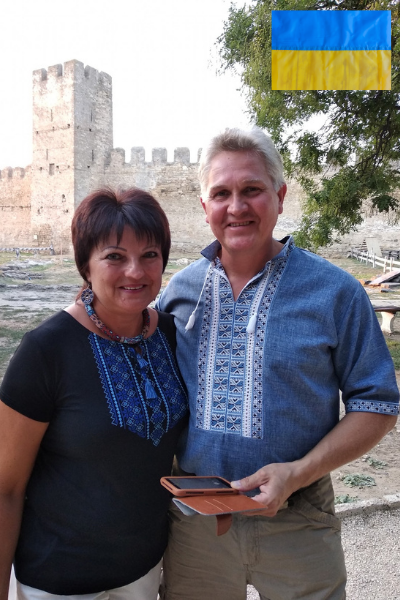 "Anya, how is your family in Ukraine?" I asked. "My sister just called me to say goodbye. She might not live through the night," she replied.
Anya is the director of our children's ministries, and her sister remains in Krinichnoe to care for their father.
Lyuda, a longtime family friend and a missionary in Ukraine whom our church supports, in her daily updates from Odessa said, "Though today I cannot be sure that I will see you again, I am definitely sure to see you in heaven."
To Christians in Ukraine, heaven is more real than ever; to their loved ones, it has become more tangible.
In the midst of fear and death, they remain hopeful, and they are still of good courage. In 2 Corinthians 5 Paul, talking about our heavenly dwelling, says, "For we know that if the tent that is our earthly home is destroyed, we have a building from God, a house not made with hands, eternal in the heavens… so we are always of good courage" (vv. 1, 6).
In the midst of fear, they have courage and hope. Why? Why has heaven become so real to Paul and to so many others in Ukraine? Because when death is tangible, the resurrection is all the more. 
I wish we constantly lived with this attitude—that death is near and therefore we can't take life for granted. When we read an article about a parent who died of cancer and left a spouse with three young children, we get sad. We make resolutions to spend more time with our family and in church, but eventually we return to our beauty, strength and banknotes. Last year, as 20 years after 9/11 was commemorated, many choked up when listening again to the voicemails from the hijacked Boeings. A husband, while on the plane, left a voicemail to his wife, "I'm on an airplane that's been hijacked. If things don't go well, and it's not looking good, I just want you to know I absolutely love you. I want you to do good, go have good times, same to my parents and everybody, and I just totally love you." These words penetrate, and we are moved. But for how long? 
Sudden encounter with death makes you forget about your own strength, beauty and banknotes. When death comes to your home, you realize that you are mortal. When death comes to your family, you realize that you are temporary and that you may just perish. But when one knows Jesus as Savior, his words ring true, "Do not be afraid of those who kill the body but cannot kill the soul" (Matt. 10:28). And so, in the midst of fear and death, they are of good courage.
I think it is proper to say that Jesus of Nazareth was of good courage. His ministry was abundant. He wept and he rejoiced with others; he befriended and rebuked; he healed and comforted; his investments were of eternal value. He was not taken over by the pursuit of the things of man like military power and political fame, but he was focused on the things of God. His treasure was truly in heaven. As the Son of God, he was certain about heaven and about resurrection, but also as the Son of Man he was certain about death. He was not indifferent towards it; he took it seriously. He was moved at the sight of death. Are we? In John 11, right before raising Lazarus, Jesus wept. He did not disregard death during his life. He knew that he would have to face it, too. Perhaps, this is one of the things that made his ministry so unfeigned: anticipation of coming suffering and death on the cross. Unfeigned. Death removes the pretense of security that wealth produces. Perhaps this is why to many Ukrainian people heaven is now more real than ever. Because death is knocking on the door. Death is on the border.
When death is tangible, the resurrection is all the more.
When death comes near and Christian parents are hugging and covering their children with both arms in the bathtub, with metal pots on their heads, hoping that their house will be spared, they are praying to God. Why? Because when death is near, God is nearer.
Anya said that Krinichnoe, the town where her sister is now with her father, is not equipped with outdoor warning sirens for cases of an attack, but they have a more transcendent way to communicate the coming danger. They ring the church bells. The beautiful sound of the bells is now associated with the sound of death.
John Donne beautifully described how in 17th century England the bells of the church would ring to summon people for worship, prayer and baptism. The bells were also rung to call people to a funeral or to tell the community about the impending death of a church member, so that everyone may come together and comfort and pray for the dying one, but also so that everyone may come and learn from the suffering person in order to ripen and mature. Donne says that another's affliction and tribulation may be our treasure. Why? Because it allows us to contemplate our own death, reevaluate our life, and perhaps recommit our life to God.[1] 
In his heavy article, Don't Waste Your Cancer, John Piper says that you will waste your cancer if you refuse to think about death. Cancer, I don't know, but war, I do. And so do you. You and I look at the same screen. Perhaps we should not let the suffering of our brothers and sisters in Christ in Ukraine pass in vain. Perhaps we should not waste it. Instead, we should contemplate our own mortality, so that we may live a sober life. Truly, the heart of the wise is in the house of mourning (Eccl. 7:4).
Here are some of the same, and updated, prayer needs for Ukraine.
Reach out to the Ukrainian people that you have met and love them.
Pray for the civilians that the Lord would help them outlive this tragedy.
Pray for miracles. There are reports of bombs bouncing off the ground and not exploding, of weather conditions that keep the attacks away and of targets not being hit by professional military equipment. All these have saved many lives.
Pray for those who defend, that the Lord would give them courage, cheerfulness and strength.
Pray for Christians that they would make wise and God-honoring decisions in extreme situations, that they would have a sober mind and that the Spirit would give them a gift of discernment to make good judgments.
Pray for comfort and peace for mothers who are caring for little children while their husbands are drafted, that mothers would have the warmth to console and soothe their children in such a traumatic time.
Pray for safe evacuation for those who decide to leave, that their cars and buses would arrive to safe destination without accidents.
Pray for the elderly who decide to stay that they would be untouched.
Pray that people outside Ukraine would continue to have communication with their loved ones inside the country.
Pray that Ukraine would receive international help.
Pray that the Christians would preach the gospel faithfully to angry and hopeless people.
Pray that non-believers would come to the saving faith in our Lord, that they would repent and embrace Jesus as their savior.
Now many ministries in Ukraine operate outside of their regular mission as they are meeting basic physical needs of the people. If you would like to give, there are plenty of resources where you can donate online but here are two local ministries in Ukraine that we personally know and trust. I am certain that they will use your donations for a godly cause, beyond what their ministries are initially designed to do. Izmail Life Care Center and Pathway Ministries.
If you want to intercede, and are looking for words, you can pray this prayer:
Almighty God, you are the One who parted the Red Sea; you are the One who made the sun stand still. You are the One who made the dead bones live, and ultimately, you are the One who is able to bring the dead to life. Therefore, O Lord, nothing is impossible for you, so we pray in full faith, asking that you would stop this tragedy in Ukraine. Heavenly Father, with your mighty hand, please protect the people in Ukraine, and apply these words to the hearts of all Christians—"Fear not, for I am with you; be not dismayed, for I am your God; I will strengthen you, I will help you, I will uphold you with my righteous right hand." Lord, as they walk through the valley of the shadow of death, we pray that you would be their shepherd. We ask that you would truly prepare a table before them in the presence of their enemies, and that you would supply every need, according to the riches of your mercy. Lord, may the love of Christ dwell in their hearts, and may you root and ground them in hope of the resurrection. In Jesus' name. Amen.
Anton Ivanov is a 2021 M.Div. graduate of Beeson Divinity School. He is Russian and his wife is Ukrainian. Dasha is a member of Third Presbyterian Church (PCA) in Birmingham, AL, while Anton serves there as assistant pastor. Read his first post. If you want to contact Anton, you can reach him at anton@thirdpca.org.