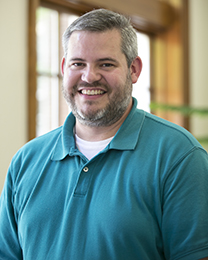 Technology Services Manager
Cumberland School of Law
Cumberland School of Law
Office: Robinson Hall 
A native of Birmingham, Ala., Jeff Whitcomb, technology services manager, supports the technology needs of all departments at Cumberland School of Law.
Before joining the law school staff in 2004, Whitcomb was employed at Electronic Data Systems and worked as part of the Bellsouth team. At Bellsouth, Whitcomb was a member of the first level, then second level, Technical Support Center. As a second level team member, he spent many months loaned to the third level support services group, which did all quality assurance for new systems and patch updates.
Whitcomb and his wife, Becky, are involved with the Alabama based Magic Moments organization which grants magic moments for children with chronically life threatening medical conditions.