Important Information During Samford Campus Restriction (COVID-19)
We are monitoring the latest information of the coronavirus (COVID-19), and it can be quite overwhelming. Please be assured that Samford University is taking this rapidly evolving situation very seriously, with our highest priority being the safety and wellbeing of our students and our campus community. Please refer to the latest updates from Samford University at the provided web link: https://www.samford.edu/emergency/information/coronavirus/
As you know, Samford University is under campus restriction at this time,  shifting all classes to an online environment indefinitely.
Throughout this extended campus restriction, C&W will continue to be available to students. If you have questions and need to speak with a counselor, you may contact C&W at counseling@samford.edu or 205-726-4083. Please note that access to certain services may be restricted by state regulations.
If you feel that you are in a crisis, please reach out to your local emergency contact, call 911, or contact the national Suicide Hotline at 800-273-8255.
Please remember these resources that may also be available to you: 

You can contact local mental health providers.
Telehealth options are frequently offered through your insurance carrier.
Office Hours
Monday-Friday, 8 a.m.-4:30 p.m. (with some flexibility upon request)
Location
Dwight Beeson Hall (DBH) 203
Appointment Information
On-site appointments are prepaid through student fees and are no extra cost to the student.
Missed Appointment/Late Cancellation Fee
If you need to cancel or reschedule an appointment, please email or call C&W 24 hours prior to your appointment. If you fail to contact C&W 24-hours prior to the appointment you want to cancel or reschedule, a student support fee of $10.00 will be charged to your Banner account. Reducing missed appointments will help us maximize student access to counseling sessions and reduce wait times.
Scheduling
Email counseling@samford.edu, call 205-726-4083, or stop by the office in person. We have graduate student interns who also see students.
About Counseling
What is Counseling?
Counseling is a relationship between someone seeking help and a trained professional. The skills of the counselor involve genuineness, empathy, and respect, creating a safe environment to explore issues. It is designed to explore your personal issues in gaining insight and clarity as well as developing a plan of action for positive change.
Confidentiality
Protected health information may be disclosed without written permission in situations of imminent danger for the student or others, where it is required by court. Otherwise, given licensing standards for Licensed Professional Counselors (LPC) and Licensed Clinical Social Workers (LCSW), protected student health information (i.e. counseling content) will only be disclosed with the student's written permission on a Release of Information Form.
Only the student can make decisions regarding reporting to State Professional Boards or other agencies regarding their use of Counseling & Wellness. When and if specific protected health information would be shared is discussed with each student during sessions.
Mission
The mission of Counseling & Wellness is to empower the students of Samford University to realize their academic and personal potential by promoting psychological, social, and spiritual wellness through individual counseling and outreach programming. While Samford's professional counselors are equipped to integrate and address spiritual aspects of personal growth, the student sets the tone and chooses when and how they would like to include this dimension into their therapeutic work.
Services
Nature And Extent Of Services Provided
Specific functions and services of our office include, but are not limited to:
Consultation and Triage services
Evaluation & limited assessment
Short-term, goal-oriented, as needed exploratory psychotherapy
With written consent we can collaborate with faculty, staff, parents, peers, & community resources to meet treatment goals
Release of Information Form
Crisis intervention
Campus-wide educational Wellness Programming
Community referrals: The office of Counseling & Wellness is not intended to treat serious chronic psychiatric disorders. Individuals clearly requiring or requesting such treatment and/or medication assistance will be aided in obtaining services off campus. Costs of any such services will be the responsibility of the student.
Counseling topics include, but are not limited to:
Academic/study skills
Time management
Substance/alcohol abuse
Eating disorders
Depressed feelings
Self-confidence
Adjustment to college life
Anxiety & stress management
Grief due to death, or other loss (i.e. divorce, relationships)
Sexual assault/relationship violence
Limitations
Samford University Counseling & Wellness is not designed to advocate for a student in regards expert testimony or character evaluations. The primary focus of our office is treating and facilitating the student's overall wellness and health.
Counselors do not undertake assessments of students or their family members for legal purposes. Students needing expert testimony for court related purposes can contact a professional outside of Samford University at their own expense.
*In a recent survey, half of all college students said they had been so stressed that they couldn't get their work done or enjoy social activities during the last semester. But all of us have the power to take control of our emotional health in order to improve our moods and get the most out of college life. Be proactive and preventative by scheduling an appointment today to speak with one of our clinicians!
Training
Samford's Counseling & Wellness staff value the opportunity to bring wellness information and education to YOU. Everyone benefits from knowing how to better care for themselves and others, how to recognize warning signs for deteriorating mental health or potential threat from others, and knowing how to improve one's coping skills. If you are a student, faculty or staff member, campus organization, club, or department head and you are interested in hosting a Counseling & Wellness staff member to present on a particular topic, please let us know by contacting our office.
Topics can include, but are not limited to:
An Introduction to Counseling & Wellness programs: What we do
Anxiety & Stress Management
Warning Signs for Students in Distress
Recognizing Distress and Taking Proper Steps to Assess, Address, and Refer appropriately
Healthy Boundaries
Improving Coping Skills in College and Beyond
What is Work/Life Balance?
Understanding & Engaging with Students and Suicidal Ideation
Contact us today to discuss any area of interest that we may be able to help you address!
Surveys
In Crisis?
Physical Danger
If you are in personal crisis, and/or you or someone else's life is in immediate danger, call 9-1-1, visit a local Emergency Room, or contact campus police at 205-726-2020.
Rape or Sexual Assault
If you or someone else are in crisis following relationship violence, sexual assault or rape, call the 24/7 local Crisis Center Rape Response Line at 205-323-7273.
Suicidal
If you or someone else are actively suicidal and considering taking your own life, call the 24/7 local Crisis Center Crisis Line at 205-323-7777. If the phone number is busy, please call the toll free National Suicide Prevention Lifeline at 1-800-273-TALK (1-800-273-8255), or immediately visit a local hospital Emergency Department.
Services in the Event of a Major Disaster
In the event of such an occurrence (e.g. tornado), students and residents will be provided planned interventions through the Samford University Crisis Committee and posted on our Emergency Alerts webpage.
Resources
State to State Teletherapists
https://www.pandemictherapists.com/
iPhone Applications
This list is not exhaustive, and only includes a sample of available options.
Anxiety
Calm
Headspace
Relax Meditation
Panic Pit Stop
Stop, Breathe & Think
Simple Habit
Depression and Other Mood Disorders
Depression CBT Self-Help Guide
Positive Thinking
Operation Reach Out
Fight Depression Naturally
Daylio
TalkLife
Lantern Health
What's Up?
MoodMission
Pacifica for Stress and Anxiety
Adoption  Issues
Providers with Psychiatrists, Psychologists and Counselors on Staff
Providers with Psychologists and/or Counselors on Staff
Body Image Work & Eating Disorder Treatment
Fixed Income
Food Assistance
Housing
Mindfulness
Rehabilitation Services (Job and Educational Accommodations)
Alabama Department of Rehabilitation Services [Link not working 7/13/2020]
Substance Abuse Treatment
Veterans
Samford University Counseling & Wellness does not endorse or recommend a specific mental health service provider. This list is simply for your convenience and is not intended to be a complete list of all mental health facilities in the area. If you are a provider and wish for your practice or services to be added to the list, please contact our office at (205) 726-4083.
Our Team
Lyndsay Cogdill Clark, MSW/LICSW, PIP, MDiv
University Counselor and Wellness Coordinator
Office: 203 Beeson Hall
University Counselor and Wellness Coordinator Lyndsay Cogdill Clark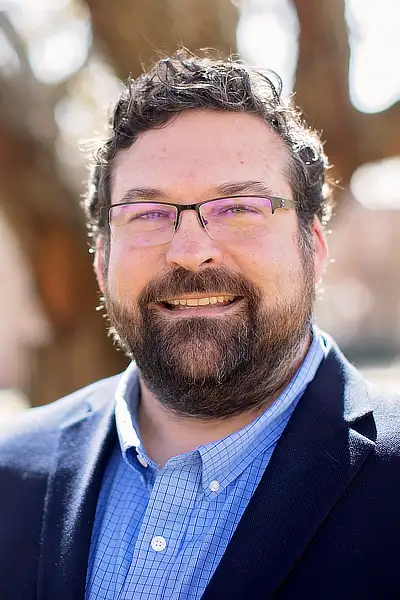 Richard Yoakum, M.S., LPC
Director of Counseling Services and Wellness Programs, University Counselor
Office: 203 Beeson Hall
Director of Counseling Services and Wellness Programs, University Counselor Richard Yoakum