Traditions
From homecoming to Mr. Beeson, Samford University has a rich history of traditions. Whether you're a prospective student, alumni or friend, give our time-honored traditions a try.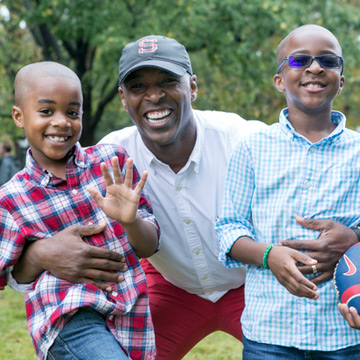 Homecoming
For more than 140 years, Samford alumni have met to renew acquaintances, share a meal and reconnect with their alma mater. In January 1866, at the end of the Civil War, Howard College and the town of Marion, Alabama, celebrated the return visit of Howard's first president—Vermont native Samuel Sterling Sherman—in the first recorded homecoming celebration. By 1870, the alumni association had elected officers and inaugurated an official annual reunion of alumni that included a banquet in connection with spring commencement ceremonies. The homecoming tradition continues each fall, with a candlelight banquet, football game and activities for the entire Samford community.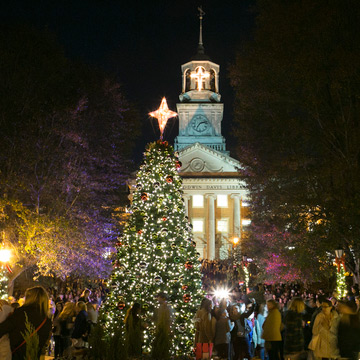 Hanging of the Green and Lighting of the Way
Decorating for Christmas has special meaning at Samford. The traditional Hanging of the Green service just after Thanksgiving features candlelit walks, beautiful seasonal decoration of Reid Chapel and Centennial Walk, a worship service celebrating the birth of Christ led by a group of selected senior class honorees, and the official lighting of the campus Christmas tree during Lighting of the Way.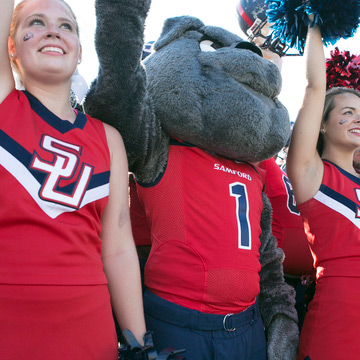 Crimson and Blue
The origin of crimson and blue as Samford's traditional school colors is unknown. Archival records show the colors were in use in athletics events as early as 1908, and by 1910, references clearly demonstrate the colors were recognized by students and alumni as the official colors. In the mid-20th century, crimson was replaced by red.
THE CRIMSON AND BLUE
In our hearts our college emblem
Long has been with love enshrined.
In the vast of our affections
With our memories entwined.
We would lift this veil of silence,
Bring our emblem forth to view,
We would share the storied treasures
Of the Crimson and the Blue.
Bursting into song exultant,
We would lilt to lay to you
Telling of the storied treasures
of the Crimson and the Blue.
Joseph T. Vaughn, class of 1918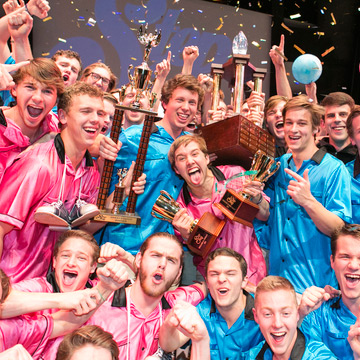 Step Sing
Each year, almost 1,000 students participate in this unique musical production, which began more than 50 years ago and has developed into one of the most popular Samford traditions. Each show is developed, written, choreographed, rehearsed and performed by students. In addition to entertaining thousands of audience members, the proceeds of each Step Sing are donated to charity.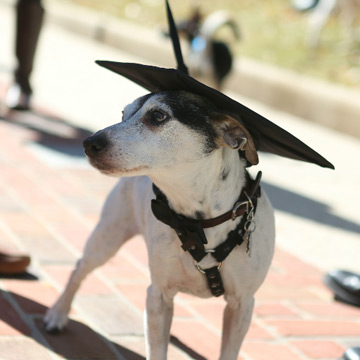 Rascal Day
Each spring, Cumberland School of Law faculty, staff and students honor a mongrel pup named Rascal. Rascal faithfully attended classes at the law school's former campus in Lebanon, Tennessee, until he was presented with the rare degree of Doctor of Canine Jurisprudence in 1937. Legend holds that his diploma was awarded in recognition of the hundreds of classes and mock trials at which his attendance had been difficult to ignore. When he died in 1940, Rascal was buried beneath the window of the classroom where he had spent so much time. When the law school joined Samford University in 1961, Rascal's tombstone and a few spades of dirt from his grave were brought to the Samford campus and reinterred on the west side of Robinson Hall. Each year, a procession of two- and four-legged creatures passes by Rascal's grave to commemorate one of the law school's most memorable graduates.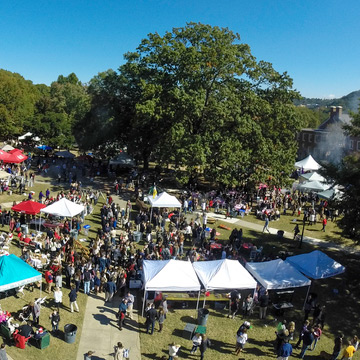 Tailgating on the Quad
Don't miss the food, fun and games as a festival atmosphere envelops the quad hours before the kickoff of every home football game. The Bulldog Walk takes place about two hours prior to kickoff as the team walks from Beeson University Center to Seibert Stadium, led by the cheerleaders and the Samford Marching Band.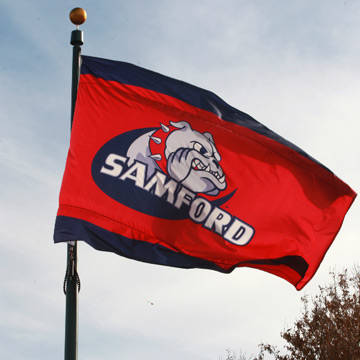 The Victory Flag
As a symbol of pride and campus unity, the Samford victory flag is posted in Talbird Circle to celebrate the following occasions:
Faculty academic achievement (opening convocation in August)
Student academic achievement (honors day in April and commencement days)
Academic team national championships
All football regular season and play-off victories
Southern Conference team regular-season championships
NCAA playoffs and championships
Other occasions at the president's discretion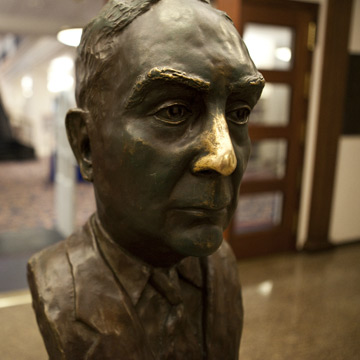 Major Davis' Nose
Presidential portraits may be seen throughout University Library, but a special place is reserved for the portrait and bronze bust of Major Harwell Goodwin Davis, 15th president. Davis helped save the college during the Great Depression and led the college through its relocation in 1957. Touching the bust of Davis in the entrance of University Library proves to be an irresistible good-luck charm to visitors, who keep the nose well polished.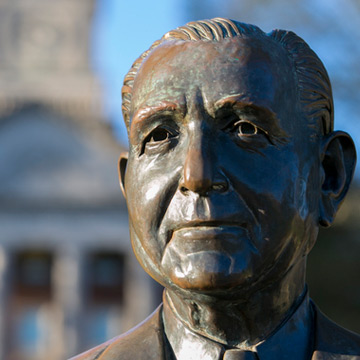 Mr. Beeson
Introduced to Samford by longtime trustee A. Gerow Hodges, Ralph W. Beeson and his family helped define the physical and intellectual shape of the university for more than three decades. Their gifts, totaling more than $110 million, supported a variety of building and academic projects. Glynn Acree's life-size bronze statue of Mr. Beeson at the foot of Centennial Walk welcomes visitors to campus and is a popular spot for photographs. Mr. Beeson's birthday is celebrated each year on October 24.