A Tradition of Excellence
Nationally Ranked
Samford has been consistently ranked among the top colleges and universities in our peer group for three decades. We are the highest Forbes-ranked university in Alabama and U.S. News & World Report ranked us third in the South for Regional Universities and undergraduate teaching. We are also nationally ranked by Kiplinger's Personal Finance and The Princeton Review.
Samford University prepares you to lead the life you've always envisioned.
World-Class Faculty
Our faculty members are preeminent scholars with real-world experience. They have the credentials to lead a company, research hospital or school system. However, their passion is to mentor you as the next generation of leaders.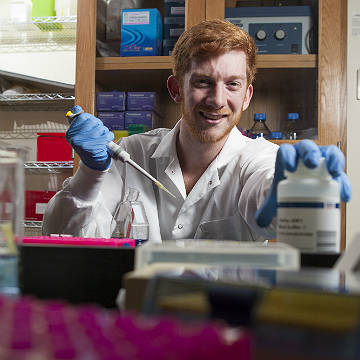 Samford professors make an effort to know who you are. They get to class early and chat with you about your life. They really care. Adam Beasley, Biology Major
Classes at Samford are intentionally kept small (average size is 21) because professors want to know you, invest in you and advocate for you. Samford professors connect you with internships, recommend you for jobs and become lifelong support systems.
Undergraduate Research
Intellectually curious students plus faculty advisers equals creative solutions to complex problems. Samford students get hands-on experience with field-specific experts to uncover 2,000-year-old civilizations in Israel, decode critical strands of DNA or conduct interviews with survivors of the civil war in Bosnia.
Every single day that I spent at Samford prepared me for the "real world." From technical skills like how to write a press release or deliver a presentation to general life skills, I'm grateful for my Samford degree everyday. Allie Klaubert - Associate, Markstein Strategic Communications Agency
Graduate Opportunities
Undergraduate coursework at Samford launches you straight into our professional schools. You can start your graduate degree as early as your traditional junior undergraduate year.
Cumberland School of Law 3/3 (3 years undergraduate, 3 years graduate)
McWhorter School of Pharmacy 2/4 (2 years undergraduate, 4 years graduate)
Brock School of Business 5th-year M.B.A. (1 year graduate)