Samford University, in partnership with Ascension St. Vincent's, is pleased to provide health care services to our campus community of students and employees. This partnership builds on the strong faith-based mission of both the university and the Ascension St. Vincent's. 
Hours of Operation
University Health services is available by appointment only for students and employees from 8 a.m. to 4:30 p.m. Monday-Friday. To make an appointment or to discuss your symptoms, call 205-726-2835 or send a message through the patient portal.  
For urgent care needs after hours visit
St. Vincent's Urgent Care
 or your preferred provider. 
COVID-19 Testing
If you have
symptoms of COVID-19
, or believe you have been exposed to COVID-19, you should
CALL
the clinic at 205-726-2835 for a telehealth appointment with our nurse practitioner. If a COVID-19 test is recommended, you will be referred to St. Vincent's Primary Care in Hoover for an in-car test--possibly the same day. Results are received within 48-72 hours. 
University Health Services does not test for COVID-19 in the clinic on campus. Additionally, the clinic is not available for return to campus testing required by the university. Questions about testing to return to campus should be directed to
covid19health@samford.edu
. 
Services
University Health Services is a fully-functional health care facility providing primary medical care, preventive health care and wellness services. 
Primary Care Services
Assessment and treatment for acute and chronic illness and injuries (example: cough, earache, sprained ankle, etc.)
Basic first aid
Digital X-ray
Health maintenance and management of chronic conditions
Hydration / IV fluid
On-site Labs (CLIA Waived and non-complex chemistry)
Sports injuries
Urgent care
Preventive Health Care Services
Allergy shot administration
Physicals/well checks
TB skin tests
Vaccinations
Women's care
In partnership with St. Vincent's staff, University Health Services offers wellness programs throughout the year.
Allergy Patients
Prior to starting an injection routine, allergy patients must have an office visit to establish care. The visit may take place any day during normal clinic hours.
Location
University Health Services is conveniently located on the east side of F. Page Seibert Hall, next to the football field. The clinic includes three examination rooms, a treatment room, triage area, digital X-ray and on-site CLIA-waived lab.
Forms
Incoming Student Prerequisites and Forms
In keeping with the recommendations of the American College Health Association, Samford University requires certain immunizations upon matriculation. All students, including graduate and professional students, are required to submit the Immunization Record to University Admissions.
The record must be signed by a health care provider or community health department stamp and must be on the Samford immunization form.
New Student Health Forms
Undergraduate/Graduate Health Form - Required of all undergraduate/graduate students
Samford is introducing a new process for collecting health and immunization forms. Med+Proctor will email you at your Samford email account with instructions for creating an account and providing your health information. If you have already submitted a paper copy of the form, we will forward your information to Med+Proctor; they will email you at your Samford email account if any follow up is needed.
Med+Proctor
College of Health Sciences Health and Immunization Forms
Required for all College of Health Sciences students, both graduate AND undergraduate
International Student Health Form 
Required of international and ESL students prior to arrival
International Student Immunization Record 
Required of international and ESL students (TB skin test and other required vaccinations to be completed at UHS upon arrival)
Where Do You Turn It In?
Undergraduate - Upload online via Med+Proctor
Graduate - Non-College of Health Sciences, email to program admissions coordinator
College of Health Sciences
Failure to submit this documentation at least two (2) weeks before date of arrival will result in a $150 fine and/or a registration hold on the student's record until the completed record is received.
See department/school specific deadlines in Student Handbook.
Flu Shot Forms 
New Patient Forms
Records Request Form
To release records from University Health Services to another facility or to request records be sent to us.
Patient Portal
How to Set Up Your St. Vincent's @ Samford Health System Patient Portal
Get your registration code from the receptionist at Samford University Health Services. This will be sent via email or text message*.
Click on the secure link in the message and follow the online instructions to set up your account
Verify your identity by following the instructions online
Log in to the patient portal using your new account information
*You must use the email provided at registration.
Have questions?
Go to St. Vincent's online for detailed instructions, or contact Samford University Health Services.
Insurance, Billing & Cancellations
University Health Services is a participating provider with several major insurance carriers. As a courtesy to students/patients, we will submit claims to the carriers with which we are contracted. Patients without coverage (or with coverage from a non-participating carrier) will be responsible for a $50 charge at the time of service plus the charges of any testing/procedures that the physician orders as medically necessary. These "self-pay" charges will be at a discounted rate for those without accepted insurance or no insurance. Payment is due at the time services are rendered via Visa/Mastercard or can be applied to the student's Banner/e-bill.
In addition, Samford University employees participating in Samford's Blue Cross Blue Shield plan will have the extra benefit of no co-pay ($0) for services rendered in University Health Services.
Providers & Claims
University Health Services is a participating provider for the following health insurance plans and networks:
Aetna
Blue Cross Blue Shield
GoldenRule
Humana
Tricare Standard (Prime requires a referral from the assigned provider)
United Healthcare
Other group plans - call clinic to verify
*We are not a participating provider with any Coventry insurance plan or CIGNA. However, we will submit claims to be applied to the out of network benefits or proceed as self-pay, whichever is preferred.
As a courtesy to our patients, we will submit claims to the carriers listed above when complete insurance information is received. The patient will need to bring their insurance card or a legible copy of the front and back of the insurance card with them to the visit. The patient will also need to know the name and date of birth of the policy holder.
Patients with non-participating insurance plans or uninsured patients will be responsible for a $50 charge plus the charge of any tests/procedures/x-rays/etc that the physician orders as medically necessary.
Payment
Payment may be made by VISA or MasterCard at the time of service. We can apply the co-pay and/or balance to the Samford Banner/ e-bill as well. Co-pays and amounts expected not to be covered by insurance are due at the time of service, and may be paid using one of the approved payment methods. The patient or designated responsible party is responsible for any balances not paid by their insurance carrier including deductibles and non-covered services. Outstanding balances for international students will be posted to the student's account in Banner and e-billed through the bursar's office. Payment is due on or before the due date on the e-bill. There will be a $30 fee for any returned checks.
Non-Covered Services
Occasionally there are services that may be necessary for treatment of the patient's condition and maintenance of good health that are not covered by your insurance contract or that may be considered "medically unnecessary." The patient or designated responsible party is expected to pay for those services in full. Please be assured that the test and treatments ordered are only those your health care provider believes are necessary for your treatment and care.
Responsible Party
Unless otherwise designated, the patient is considered responsible for any balances not paid by insurance carriers, including co-pays, deductibles and non-covered services. It is the responsibility of the patient, if required by their insurance carrier, to obtain pre-certification or referral (HMO's, Tricare Prime, etc) prior to visiting University Health Services. Questions concerning benefits must be directed to your insurance company.
Outstanding Balances
Patients with an account balance greater than 90 days past due will have the balance placed on their Samford e-bill.
Student Insurance
Samford University is pleased to offer an Injury and Sickness Insurance Plan underwritten by UnitedHealthcare Insurance Company for students who are required to show proof of insurance.
Students eligible for this coverage include undergraduate and graduate students in the College of Health Sciences and international students. The College of Health Sciences includes programs in athletic training, communication sciences and disorders, health sciences, nursing, nutrition, pharmacy, physical therapy, public health, speech language pathology and more. See a full list
here
. 
*For questions regarding student insurance, contact Wade Walker, director of business services, 205-726-2916.
Cancellations
There is a $25 fee for missed appointments not canceled at least one hour prior.
Due to limited appointment availability each day, it is important that if you schedule an appointment please make every effort to keep it.
Emergencies
Life Threatening
In case of life-threatening injuries or illness, or if an individual is not responsive:
On/off campus call 911
Be prepared to say exactly where you are
Keep the victim calm
To obtain medical care, use a local emergency department:
St. Vincent's Hospital
806 St. Vincent's Drive
Birmingham, AL 35205
205-939-7100
Urgent Conditions
Although the conditions below may not be life-threatening, have a medical evaluation as soon as possible if you experience any of them. When University Health Services is open, call 205-726-2835 to let them know you are coming.
For other urgent issues on campus, please call Public Safety at 205-726-2020.
Examples of urgent conditions include:
Urinary infection
Any injury with significant pain or swelling
Minor cuts
Major bee sting reaction—hives, wheezing or swelling (e.g. whole arm or leg swells)
If you have any of the below conditions you will need to go to the emergency room.
Significant pain (example chest pain or severe abdominal pain)
Asthma exacerbation (can't breath) that is not relieved by your usual medication
Possible fracture or dislocation
Loss of consciousness
Anaphylactic reaction - a severe, potentially life-threatening reaction to something
Laceration requiring stitches
Non-Emergency
If you make an appointment, you are likely to be seen sooner. Call 205-726-2835 for an appointment.
Examples of non-emergencies include:
Sprains
Bruises/abrasions (scrapes)
Minor burns
Sore throats/cough
Allergies
Our Team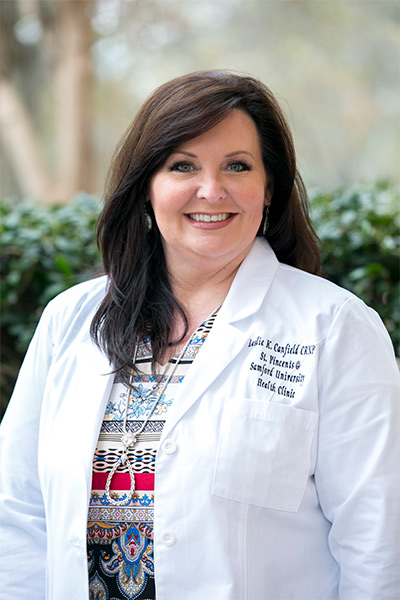 Leslie Canfield, NP
University Health Services
Office: Clinic University Health Services