Published on September 9, 2015 at 8:09 a.m.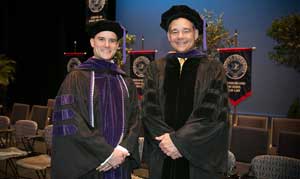 Henry C. "Corky" Strickland III, Dean and Ethel P. Malugen Professor of Law, presented the annual Daniel Austin Brewer Professionalism Award to senior Robert J. "Jay" Sewell of Auburn, Alabama at the Cumberland School of Law commencement on May 15, 2015.  The Daniel Austin Brewer Professionalism Award was endowed by Governor Albert Brewer, Distinguished Professor of Law and Government and Professor Emeritus, in honor of his father.  Each year, the award is granted to a third-year law student at Cumberland who best exemplifies the high standards of ethics and professionalism expected of members of the legal profession.
During his time at Cumberland, Sewell served as Chief Justice of the Henry Upson Sims Moot Court Board, Executive Editor of the Cumberland Law Review and Associate Justice of the Henry Upson Sims Moor Court Board Shores Competition.  He also received the M. Alan Stephens Award.  Following graduation, Sewell will work in the Criminal Trials Division of the Alabama Attorney General's Office in Montgomery, Alabama.  Sewell's wife, Jessica, also graduated from Samford on May 15, 2015 with her Masters in Nurse Anesthesia from Ida V. Moffett School of Nursing, and will work for Baptist Health Systems as a nurse anesthetist.