Published on February 9, 2015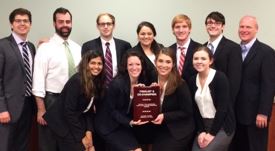 On Feb. 7-8, 2015, a Cumberland team won the southeast regional at the National Trial Competition (NTC) in Orlando, Fla. This win is the law school's sixth NTC regional championship in seven years.
The third-year student team of Spenser Templeton, Matthew Woodham, Paige Duncan and Maxwell Smith will compete in the National Finals in Houston, Texas, the weekend of March 11, 2015.
The second-year student team of Stewart Alvis, Collin Hatcher, Amanda Herren, Priyanka Patel and Hope Beaton performed well at the competition, too. They advanced to the semi-finals.
Awards were given for various performances during the preliminary rounds. Matthew Woodham won best closing argument for his prosecution close. Woodham received three perfect scores for his closing. The scorer noted that she had never given a perfect score until Woodham's closing.
Photo: Back L-R: Ross Massey (Coach), Collin Hatcher, Maxwell Smith, Paige Duncan, Matthew Woodham, Stewart Alvis & Judge Jim Roberts (Coach) - Front L-R: Priyanka Patel, Amanda Herren, Spenser Templeton & Hope Beaton.