Published on August 26, 2015 by Polly Allen Manuel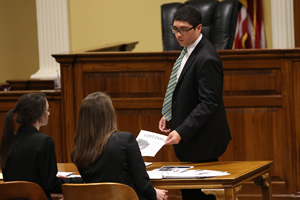 During the last two weekends in August, 36 second- and third-year students participated in the Herbert W. Peterson Trial Team Competition at Cumberland School of Law. This competition is the selection process for the law school's nationally-ranked trial teams. A special thank you to all of the volunteer judges and attorneys who dedicated their valuable time to make the competition a success. We hope that each of you will consider returning to judge in future years. 
The Trial Advocacy Board student directors of the competition were Ross Barbier and Evan Chaput.
2015-2016 Herbert W. Peterson National Trial Team:
Stewart Alvis
Austin Evans
Hunter Garnett
Colin Hatcher
Amanda Herren
Lauren Lock
Elizabeth Naro
Austin Nichols
Drew Panella
Priyanka Patel
Cydney Reynolds
Kyle Scholl
Curtis Seal
Alyson Smith
Bianca Svensson
Rebecca Wright
The team has been divided to compete in the following competitions this fall:
University of Florida Levin College of Law's National Trial Advocacy Tournament, October 9-11.
Evans, Lock, Patel, and Reynolds
St. Mary's University School of Law's 2015 Lone Star Classic, October 15-17.
Garnett, Naro, Panella, and Wright
2015 Tournament of Champions, October 28-31.
Hatcher, Herren, Nichols, and Seal
Loyola Law School, Los Angeles, 2015 National Civil Trial Competition, November 12-16.
Alvis, Scholl, Smith, Svensson