Published on April 4, 2016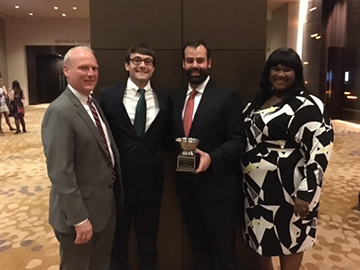 The team of Stewart Alvis and Collin Hatcher reached the Elite Eight at the national finals of the National Trial Competition in Dallas, Texas from March 30 - April 3, becoming the fifth Cumberland School of Law team to reach the national quarterfinals in the past six years.
Over three hundred teams competed in the 41st annual National Trial Competition, co-sponsored by the American College of Trial Lawyers and the Texas Young Lawyers Association. Stewart and Collin faced teams from the University of Missouri-Kansas City School of Law, University of Cincinnati College of Law, California Western School of Law and Yale Law School.
The team was coached by Judge Jim Roberts '94, Sara Williams '06 and Jeremy Hazelton '02. The team was assisted by fellow student Amanda Herren in preparation for the competition.