Published on May 18, 2016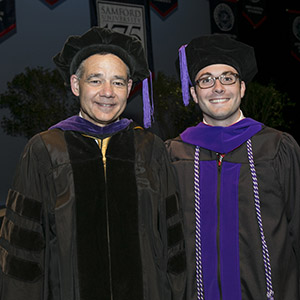 Henry C. "Corky" Strickland III, Dean and Ethel P. Malugen Professor of Law, presented the annual Daniel Austin Brewer Professionalism Award to third-year student Stewart Alvis of Birmingham, Alabama during the Cumberland School of Law spring commencement on Friday, May 13, 2016 at the Leslie S. Wright Fine Arts Center. 
The Daniel Austin Brewer Professionalism Award was endowed by Governor Albert Brewer, Distinguished Professor of Law and Government and Professor Emeritus, in honor of his father.  Each year, the award is granted to a third-year law student at Cumberland who best exemplifies the high standards of ethics and professionalism expected of members of the legal profession.
During his time at Cumberland, Alvis was an active member of the National Trial Team, the Student Bar Association and the Cumberland Law Review.  He served in various leadership positions including chief judge of the Cumberland Trial Advocacy Board, acquisitions editor and junior editor of the Cumberland Law Review, and Student Bar Association class representative and vice president.  Following graduation, Alvis has accepted a position at Maynard Cooper & Gayle, P.C. in their Birmingham office, where he will be a part of their general litigation and white collar defense and investigations practice groups.  He is the eighth member of his family to graduate from Cumberland.