Published on April 15, 2020 by Morgan Black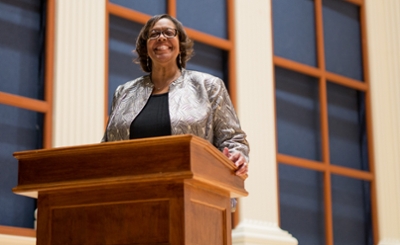 Assistant Dean Cassandra Adams was tapped to lead Cumberland's externship program, which began at the beginning of the 2020 fall semester.
The externship program provides opportunities for students to enhance their advocacy skills through real-world practice.
"Adams' extensive experience brings many strengths to this role," Dean Corky Strickland said.
As the director of Cumberland's Community Mediation Center and public interest programs, Adams is proficient in placing law students in public service roles. Through her work at Cumberland and leadership roles in other organizations, Adams has endless contacts and important relationships in the Birmingham and Alabama legal communities and organizations including the Birmingham Volunteer Lawyers, Legal Aid, and the nonprofit community.
Before joining the Cumberland faculty in 2005, Adams worked as a restorative justice trainer for the Community Justice Institute at Florida Atlantic University, a volunteer mediator with the Office of the State Attorney in the 4th Judicial Circuit of Florida, a project director for the Victim-Offender Reconciliation Project (VORP) for the Tennessee Administrative Office of the Courts, the director of admissions at The University of Texas School of Law, and the assistant director of admissions at Vanderbilt University School of Law.
Deborah Young, who directed the program for many years, retired at the end of the spring semester.
"I must thank professor Deborah Young for all that she has done to establish and grow Cumberland's externship program," Adams said. "I look forward to building upon her work, with a goal of creating a platform to expand experiential opportunities for our students."
Adams continues her role overseeing the mediation center and public interest programs in addition to directing the externship program.