Published on September 23, 2020 by Morgan Black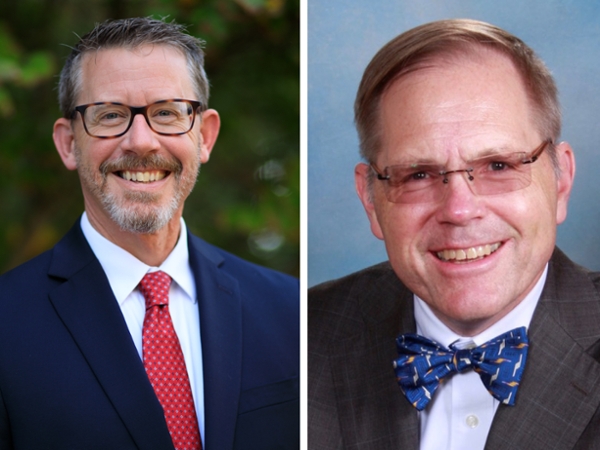 Leaders in Cumberland School of Law's online graduate program were featured as panelists during the American Bar Association's (ABA) Business Law Section's annual meeting. Director
Kerry McInerney
spoke as a co-panelist for the segment put on by the section's Consumer Finance Services and Credit Unions Committees on September 22. Instructor
Bill Hairston III
was also a featured panelist on September 23. The virtual meeting hosted financial executives from across the country.
The panel discussion including McInerney highlighted "Everything You Wanted to Know About Mortgage Forbearance" and approached many topics including federal forbearance, the CARES Act, federally backed mortgages, credit reporting, bankruptcy and litigation issues, foreclosures and evictions, and more.
McInerney's co-panelists included Ken Markison, of counsel for Weiner Brodsky Kider PC in Washington, D.C. (and former general counsel of the Mortgage Bankers Association); Chava Brandriss, partner at Davis Wright Tremaine LLP in Seattle, Washington; Margaret Chase, vice president and deputy general counsel for Fannie Mae; and Sanford Shatz, of counsel for McGlinchey Stafford LLP headquartered in New Orleans, Louisiana (and former in-house counsel at Countrywide Home Loans and Bank of America).
In addition to his role as director of Cumberland's graduate programs, McInerney, serves as professor and academic coordinator for the Financial Services Regulatory Compliance concentration in the
Master of Laws (LL.M.)
and
Master of Studies in Law (M.S.L.)
degree tracks. Courses he teaches include Mortgage and Securities Regulation and Banking Law and Regulation.
McInerney spent more than two decades representing the interests of the financial services industry as managing partner of Alabama and Mississippi Litigation at McCalla Raymer Leibert Pierce LLC and as chair of the Mortgage Litigation Group while a partner at Sirote & Permutt PC. In those roles, he managed teams of attorneys defending individual and class actions, trying cases to juries, and handling appeals in state and federal courts across the Southeast. He served as trusted adviser to clients facing regulatory enforcement actions and counseled lenders and servicers on matters pertaining to regulatory compliance.
McInerney is an authoritative voice on issues related to the financial services industry, having published more than 30 articles and appeared as a speaker or panelist at more than 25 industry events and continuing legal education seminars.
Birmingham attorney, Bill Hairston, was featured at the virtual meeting of the Lender Liability Subcommittee, where he presented on "PPP Loans—a Time-Bomb in Lender's Portfolio."
In addition to teaching in Cumberland's graduate program, Hairston is a solo practitioner providing business and succession planning guidance to select clientele. Simultaneously, he is of counsel for, and former shareholder of Engel Hairston & Johanson PC where he practiced primarily in the areas of commercial finance, business and succession planning, workouts, turnaround management, lending, SBA lending and real estate matters.
"It was an honor for us to be included among such experts in the field of banking and business law," McInerney said. "The Cumberland graduate programs lead the nation in providing compliance-focused legal master's degrees, and the ABA's Business Law Section is a national leader in business and financial services legal education. I was pleased for our program to have such prominent representation."