Published on July 19, 2021 by Morgan Black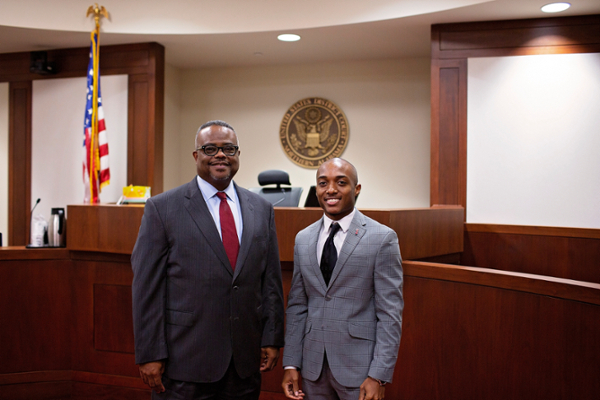 This summer, Cumberland School of Law second-year student Monroe Thornton III was one of four students in the nation to be named as a Federal Magistrate Judges Association (FMJA) fellow.
The fellowship, created by the FMJA in 2021, was designed to provide more opportunities for students to learn the various pathways to the judiciary and the broad duties of federal magistrate judges. In partnership with Just the Beginning, A Pipeline Organization (JTB), the program supports and promotes the placement of diverse and traditionally underrepresented law students in judicial internships. The FMJA president, Judge Deborah M. Smith, who is based in Anchorage, Alaska, said, "Both the FMJA and the JTB are working to help establish a legal profession in which lawyers and judges reflect the people they serve."
Just the Beginning worked with the Judicial Resources Committee of the U.S. Judicial Conference to establish the Summer Judicial Internship Diversity Project, to encourage diverse law students to consider careers in the judiciary. This year, 22 students were placed with U.S. Magistrate Judges through that program. Of those 22, four were selected to be FMJA fellows.
The fellowship provided Thornton with a stipend for his internship with Magistrate Judge John England III of the Northern District of Alabama. During his internship, Thornton assisted during mediation and other court proceedings. In addition, he wrote bench memoranda focused on a motion to suppress, questions for purposes of mediation, and judicial opinion regarding a social security appellate review. 
"I really enjoyed being able to sit through mediations, trials, jury selection, motion hearings, and evidentiary hearings," Thornton said. "As a first-generation law student, this opportunity gave me the chance to learn and watch the practice of law — what you can't get from a book. As an African American, I also enjoyed learning more about Judge England's journey to the bench as the first black federal magistrate in the Northern District of Alabama."
Thornton's experience this summer gave him a jump start on planning for his career and helped him gain a deeper understanding of how important diversifying the legal workforce is.
"Chris Greene and Christina Schutt, Judge England's law clerks, were incredibly helpful by critiquing my writing and giving me more efficient research techniques," he said. "The dynamics of a 2-to-1 teacher and student relationship really helped my legal research and writing development. Secondly, attorneys from many different firms, nonprofit organizations, and government agencies were present in court each day. This internship experience led to me meeting and connecting with new attorneys on a weekly, if not daily, basis."
When it comes to diversify the legal workforce, Thornton shared, "I believe that people's knowledge and understanding are most influenced by their personal experiences. A more diverse legal workforce creates a system that can utilize a wide variety of lenses that represent the general population of those who we serve. This type of representation will subsequently give society more faith in the legal system. Seeing this diverse representation will also further belief in the minds of elementary, middle and high school kids, who do not have attorneys in their family, that their diverse background won't hinder them from pursuing a legal career."