Important Information Regarding COVID-19
Samford University is taking measures to protect the health of its campus community from COVID-19. Summer Classes have moved online and campus events through the end of the summer are either postponed or cancelled. We are providing key information from Admitted Student Day on the Admitted Student Day website, where you can explore informational materials, learn how to schedule an online visit, and watch a series of videos from current faculty, students, and staff.
At this time, we are planning for Orientation and fall classes to be on-campus and in-person. However, we will be monitoring conditions and will update you as necessary.
Please visit the Samford coronavirus website for additional information. This is a rapidly evolving situation and we appreciate your patience.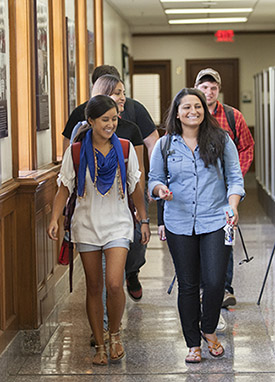 The best way to get a sense of the right law school for you is to visit campus. Samford University's Cumberland School of Law welcomes visitors all year long. Tour campus; sit in on a law school class; talk with our current students, our admissions officers, and our faculty—all will help you establish a genuine sense of place and experience.
Reservations are recommended to ensure that we are able to tailor your visit to your interests and needs; however, drop-in visitors are always welcome.
Pre-law societies or other pre-law organizations interested in planning a day visit or mini open house for your group can make arrangements by contacting the Office of Law Admission.
To schedule and tailor a campus visit, contact the Office of Law Admission.
lawadm@samford.edu
800-888-7213
Attend an Open House
Prospective students and their guests are welcome at Cumberland School of Law admission open houses. During an open house you will tour the law school, hear from faculty and students during Q&A discussion panels, learn about scholarships and fellowships, discover the law school's programs and centers, and gain a thorough understanding of the admission process. Registration is required for open houses.
Fall Open House
Fall 2020 Open House TBA
Spring Open House
Spring 2021 Open House TBA