Important Information Regarding COVID-19
Samford University is taking many measures to protect the health of its campus community from COVID-19. Therefore, we are allowing visitors on campus who meet the following requirements:
Allow Temperature Reading
Observe Social Distancing
Review Safety Protocols Prior to Visit 
Wear Face Masks at All Times
To schedule your visit, please call 800-888-7213, or email us at lawadm@samford.edu.
We are also providing key information from Admitted Student Day here where you can explore informational materials and watch a series of videos from current faculty, students and staff.
Please visit the Samford coronavirus website for additional information. This is a rapidly evolving situation and we appreciate your patience.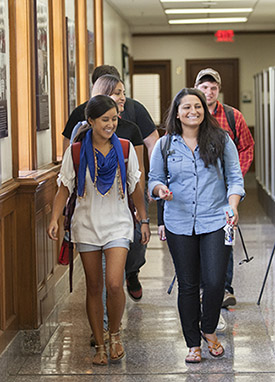 "Visiting" in the south means more than just taking a trip somewhere, it can also mean to sit down and have a chat. So we invite you to "visit" with us using the method you prefer – virtual or in-person! The best way to get a sense of the right law school for you is to visit campus. At Cumberland School of Law, we welcome visitors all year long, on campus or virtually. Tour campus; sit in on a law school class; talk with current students, admissions officers, and faculty—all will help you establish a genuine sense of place and experience.
Reservations are recommended to ensure that we are able to tailor your visit to your interests and needs; however, drop-in visitors are always welcome.
Prelaw societies or other prelaw organizations interested in planning a day visit or mini open house for your group can make arrangements by contacting the Office of Admission.
To schedule and tailor a campus visit, contact the Office of Admission.
Attend an Open House
Prospective students are invited to our admission open houses. During an open house you will tour the law school, hear from faculty and students during Q&A discussion panels, learn about scholarships and fellowships, discover the law school's programs and centers, and gain a thorough understanding of the admission process. Registration is required for open houses.
Fall Open House
Friday, November 6, 2020, 2-5:30 p.m. CST
The on-campus event is full. Registration for the virtual component is now open.
Spring Open House
Spring 2021 Open House TBA
Just starting the application process? Want to talk to someone face-to-face before setting up an on campus or virtual visit? Already decided to apply but want to learn more? Our admission representatives travel across the country to visit students at select institutions. Check our schedule and meet us at a law fair near you. 
Visit with Us Virtually
We hope you will join us for our virtual Zoom sessions this fall designed to educate students on the admission process and introduce them to Cumberland School of Law, our students, faculty and alumni.  
The Student Experience
Friday, October 23, 2020, 2–3 p.m. CST  
Meet the Cumberland School of Law Faculty
Wednesday, November 11, 2020, 10–11 a.m. CST 
Faculty Participants:
Ramona C. Albin
Associate Professor of Law and Director of Advocacy Programs  |  Bio
Judge John L. Carroll
Professor of Law | Bio
Alyssa DiRusso
Whelan W. and Rosalie T. Palmer Professor of Law | Bio  
Connect with Cumberland School of Law Alumni
Friday, November 20, 2020, 3–4 p.m. CST
Alumni Participants:
Miya Moore '17 
Associate, Burr & Forman LLP
Judge Ellen Shelley '13
District Court Judge, District 29A, Marion, North Carolina
Travis D. Thomas '17
Assistant District Attorney, Juvenile Division, Fulton County District Attorney's Office