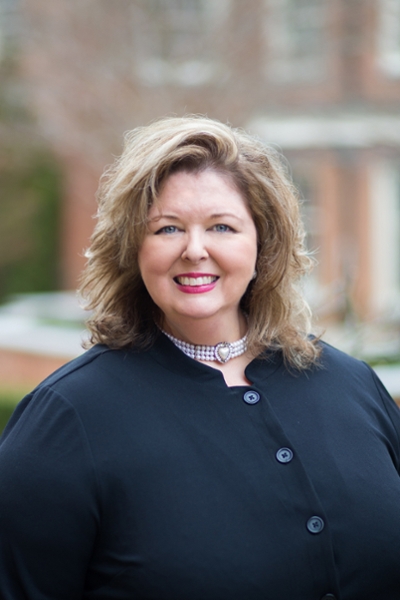 Assistant Professor and Director of Clinical Education
School of Health Professions
Department of Physical Therapy
2156 CHS Building 2
Dana Daniel Blake received an appointment as assistant professor in the Doctor of Physical Therapy Program at Samford in 2018; she then assumed the role as Director of Clinical Education for the department in 2019. Prior to that, she served as adjunct faculty for guest lectures and was the instructor for the practice management course. Back in 2014, she served on the advisory committee for the program with a diverse representation from the medical and civic community to provide feedback for the department during its developmental stages. She has had a deep and profound love for Samford University since graduating in 1993 with a degree in Biology. She comes from a long legacy of Samford University involvement – her husband and mother are both alumni and her grandfather took lay minister classes at the former campus when it was Howard College. Blake has over twenty-five years of experience in the dual roles of a practicing clinician and a multi-site clinical director with responsibilities and national awards related to high financial acumen, engaging customer service, best practice management techniques and excellent patient care. She has presented and taught courses across the nation in the areas of manual therapy, dry needling, ergonomics and spine care. She has experience in for-profit and not-for-profit settings with environments such as outpatient, inpatient, aquatic care, ergonomics/industrial rehab and consulting activities. She has been involved in teaching clinicians for over twenty years and is excited to bring this passion for excellence in skill advancement and service delivery to the DPT program. She has completed numerous certifications over her physical therapy career as follows: Manual Therapy Certification (MTC), Orthopedics Certified Specialist (OCS), Certified Clinical Instructor (CCI), and Certified Physical Work Performance Evaluator (PWPE). She brings to the classroom real-life experiences presented with passion and charisma fused with radical faith in the Lord in an inspiring manner. She has participated in numerous mission trips and faith-based camps over the years. She also has a special place in her heart for those that battle cancer and has assisted women post-mastectomy with shoulder recovery via fly fishing activities and spiritual encouragement. Her husband Bob is a neuromuscular massage therapist and owns his own practice in Alabaster where they live on a lake with their daughter and a miniature dachshund. Her family is actively involved in Kingwood Church via God Quest and Iron Sharpens Iron fellowship/teaching groups. In her free time, she loves to garden, travel, hike and fly fish. Her favorite verse is Jeremiah 29:11 "For I know the plans I have for you, declares the Lord, plans to prosper you and not to harm you, plans to give you a hope and a future."  She applies this concept in working with her students and colleagues to encourage them to seek the Lord for guidance and mix it with action to radically change their life and their practice to the glory of God. She strives to live out the Samford Mission statement "to nurture persons in their development of intellect, creativity, faith and personhood;" and, she was recently honored to receive the Collegiality Award in 2020 for the School of Health Professions via nominations by her faculty/staff peers and her students/mentorees for her encouragement and interactions with others.
Degrees and Certifications
DPT, Physical Therapy, College of St. Scholastica
MSPT, Physical Therapy, University of Alabama at Birmingham
Bachelor of Science in Biology, Samford University
Orthopedic Certification Specialist, American Physical Therapy Association
Manual Therapy Certification, University of St. Augustine
Certified Clinical Instructor, American Physical Therapy Association
Certified Physical Work Performance Evaluation, Ergoscience 
Involvement
American Physical Therapy Association (APTA):  Member
American Physical Therapy Association – Orthopedic Section:  Member
American Physical Therapy Association – Education Section:  Member
American Physical Therapy Association – Alabama Chapter (ALAPTA):  Member, previous Membership Chairman, previous Government Affairs/Political Action Committee Chapter Council member
American Physical Therapy Association – Georgia Chapter (PTAG):  Member, previous Education Committee member, previous Nominating Committee member
Alabama Worker's Compensation Organization (AWCO):  Member
Alabama Self Insured Association (ASIA):  Member
American Academy of Orthopedic Manual Physical Therapists (AAOMPT):  Member
Kingwood Church:  Member and previous Sunday School Teacher
National Association of Female Executives:  Member
Rotary International:  Member:  previously served on the Health Affairs Committee, Fellowship Committee and Family of Rotary Committee
Expertise
Practice Management
Orthopedics
Manual Therapy
Acute and Chronic Spine Care
Dry Needling
Ethics/Professionalism
Ergonomics
Functional Capacity Evaluations
Impairment Ratings
Job Site Analysis
Industrial Rehab and Consulting
Peer Reviewed Presentations
Can Physical Therapy Decrease the Use of Opioids?  Dry Needling + Manual Therapy = Pain Relief – International Association of Rehabilitation Professionals:  Alabama Chapter in 2020
Cadaveric Dissection Lab: Hands On To Help Remember Again What You May Have Forgotten!  Washmuth, Nick; Blake, Dana Daniel; Bowens, Andrea; Thurston, Lydia.  Alabama Chapter of American Physical Therapy Association.
Alternatives to Opioids – Department of Industrial Relations Conference in 2018
Ethics and Ergonomics – Alabama Self Insured Association Conference in 2017
Cost Effective Utilization of Functional Capacity Evaluations and Dry Needling – Multiple Venues
Job Site Analysis and Desk Ergonomics – Multiple Venues
Diabetes, Wellness and Rehab in the Workplace – Southeastern Mining Conference in 2015
Diagnostic Techniques and Evidence Based Treatments for Musculoskeletal Dysfunction and Pain of the Spine – Summit Education in 2009
Professionalism and Interviewing Skills for the Student – American Physical Therapy Association: Georgia Chapter in 2007
Comprehensive Management of the Lumbar Spine in the 21st Century: Tips and Tricks for the Physical Therapist Assistant or Physical Therapist – 2007
Professionalism and Development – 2005 and 2005
Comprehensive Management of the Lumbar Spine in the 21st Century: Tips and Tricks – various years nationally
Development of Treatment Algorithms to Assess the Effects of a Manual Therapy Plus Exercise versus Exercise Alone Program on Patients with Chronic Low Back Pain—American Physical Therapy Association Platform Speaker in 1996
Peer Reviewed Publications
A Mixed Methods Assessment of Burnout in Alabama Physical Therapy Workforce. 2020. Henry, Bethany; Bowens, Andrea; Blake, Dana Daniel; Amamoo, M. Ahinee. American Physical Therapy Association Poster #1101 at Combined Sections Meeting.
Assessment of Professional Quality of Life in Alabama Physical Therapy Workforce. (pending) Submitted 2020 to the Physical Therapy Journal
Physiotherapy and Spiritual Care – Spiritual Care for Allied Health Practice. (pending) Submitted 2019 for Book Chapter related to Physical Therapy
Development of Treatment Algorithms to Assess the Effects of a Manual Therapy Plus Exercise versus Exercise Alone Program on Patients with Chronic Low Back Pain. 1996. Dana Lynn Daniel. American Physical Therapy Association Platform Speaker
Research Areas
Effects of Manual Therapy and Exercise
The Role of Physical Therapy in Ergonomics for Companies
Burnout and Practice Management and Development
Spiritual Care and Professional Development