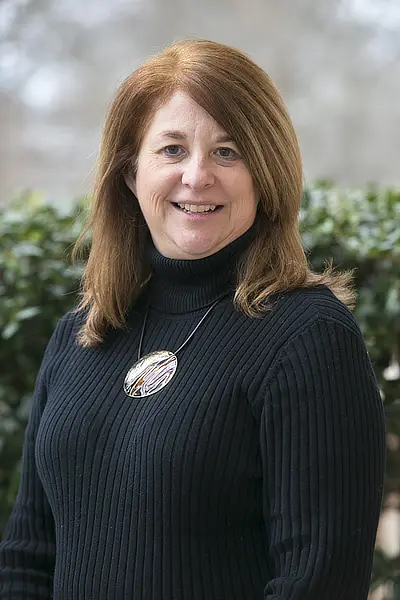 Associate Professor
School of Health Professions
Department of Communication Sciences and Disorders
2129 CHS Building 2
Karen Flynn joined Samford University in 2014 as an Associate Professor in the Department of Communication Sciences and Disorders. Dr. Flynn holds a Doctor of Education in Special Education, as well as a clinical Master of Arts in Speech-Language-Pathology. In addition, Dr. Flynn is an American Speech-Language-Hearing Association certified Speech-Language Pathologist. Her primary areas of interest are child language development and disorders and neuro-progressive disorders.  Dr. Flynn also provides speech-language pathology services to the University of Alabama at Birmingham Huntington's Disease Center of Excellence.
Degrees and Certifications
EdD, special education, Ball State University
MS, speech pathology, Ball State University
BS, speech pathology and audiology, Ball State University
Expertise
Child language
Child language disorders
Neuro-progressive disorders
Huntington's Disease patient population
Courses Taught
Introduction to Communication Sciences and Disorders (undergraduate)
Language Development in Children (undergraduate)
Language Disorders in Children (undergraduate)
Language Disorders: Birth to Five (graduate)
Language Disorders: School Age (graduate)
Prevention and Diagnosis of Speech, Language, and Cognitive Disorders (graduate)
Cognitive-Communication Disorders in Adults (graduate)
Publications
Day, L. & Flynn, K. (2022). Educating communication sciences and disorders students to use evidence-based practice literature: A collaboration between a library liaison and a CSD professor. College & Undergraduate Libraries, 29 (3/4).
Thatcher, K. (2019). 20Q: Incorporating Literacy into Early Intervention, Preschool & Home. SpeechPathology.com, Article 20138.
Thatcher, K. (2017). Fun with literacy. 100s of Activities, Exercises, and Tips for the Classroom & Therapy (Birth-Preschool). PESI Publishing, Eau Claire, Wisconsin.
Presentations
Day, L. & Flynn, K. (2023). Teaching Communication Sciences and Disorders Students Evidence-based Practice Access and Utilization:  A Library Liaison and CSD Professor Collaboration. Poster presentation at the 2023 Joint South Central and Southern Chapter of the Medical Library Association meeting. New Orleans, LA.
Flynn, K. (2022). Communication and Swallowing in Patients with Huntington's Disease. Invited speaker to Facing the Future Together: 1St Annual Huntington Disease Africa Conference 2022. September 2022.