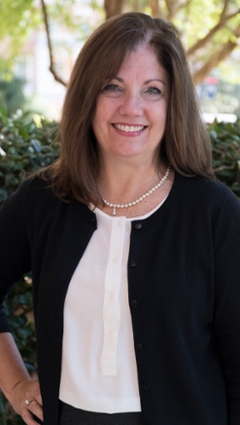 Carol L. Koch
, Ed.D., CCC-SLP
Professor
School of Health Professions
Department of Communication Sciences and Disorders
Office: CHS Building 2 2131
Dr. Carol Koch comes to Samford from Children's Mercy Hospital in Kansas City, Mo. where she served as the Director of Hearing and Speech for the past 20 months.  Prior to that appointment, she was an associate professor for the Department of Communication Sciences and Disorders at Rockhurst University for nine years.  Her clinical, teaching, and research interests include:  pediatric speech sound acquisition and speech sound disorders, assessment and intervention for children diagnosed with autism spectrum disorder, family and sibling experiences with a child who has special needs, early intervention, trauma-informed care, and clinical education/supervision. Currently, she is writing a textbook on assessment and intervention for pediatric speech sound disorders.  Koch enjoys travelling, photography, reading, and scuba diving.  She is also an active member of her faith community.  
Degrees and Certifications
Ed.D., education and speech pathology, Nova Southeastern University
M.A., communication disorders, Central Michigan University
B.S., communication disorders and psychology, Central Michigan University
Expertise
Pediatrics, especially birth to age 5
speech sound disorders
management of challenging behaviors
Awards and Honors
ASHA Leadership Development Program in Healthcare, 2014-2015
Rockhurst University presidential grant for, "A Closer Look at the Phonetic Inventories of Young Children," 2013
Professional Delegate for People to People International Ambassador Programs-New Zealand and Australia (2000); Vietnam and Cambodia (2009); Israel (2010)
American Speech-Language-Hearing Association, award for continuing education, 1990, 1994, 1998, 2007, 2010, 2012, 2013, 2014, 2015
Publications
Koch, C. (In progress). Case-based Approach to Speech Sound Disorders (tentative title). Jones & Bartlett Learning: Burlington, MA.
Presentations
Koch, C. (2014). Contrast Approaches for Children with Speech Sound Disorders. A 2-hour podium presentation for the American Speech-Language-Hearing Association Annual Convention, Orlando, FL.
Koch, C. (2014).  Decreasing challenging behavior:  An SLPs role in functional communication training.  A 60-minute platform presentation at the Advances in Pediatric Speech-Language Pathology:  Autism. A regional conference hosted by Children's Mercy Hospital Hearing and Speech Department.
Koch, C. (2014).  Treating children with speech sound disorders.  A 2-hour platform presentation at Children's Mercy Hospital.
Hart, P. & Koch, C. (2013). Improving graduate student skill and confidence through structured lab experiences. A poster session presented at the American Speech-Language-Hearing Association Convention, Chicago, IL.
Research
Speech sound acquisition, management of speech sound disorders, autism spectrum disorders, family and sibling experiences, childhood apraxia of speech, trauma-informed care, clinical education and clinical supervision
Involvement
American Speech-Language-Hearing Association, editorial review board for Special Interest Group 11, 2016-2018
Missouri Speech-Language-Hearing Association, convention planning team; strategic planning committee; and chair of pediatric program, 2015
Missouri Speech-Language-Hearing Association, student research presentations judge, 2007-2015
Children's Therapeutic Learning Center, managing board of directors; co-chair of quality services committee; and volunteer chair of the GroundHog Run, 2009-2015