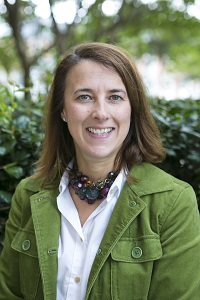 Instructor and Director of Undergraduate Studies
School of Health Professions
Department of Communication Sciences and Disorders
Office: 2124 CHS Building 2
Prior to joining Samford as the director of clinical education in the Department of Communication Sciences and Disorders, Laura Promer provided diagnosis and treatment of language, reading, writing and related disorders to children and adolescents in a private clinic setting. 
Promer's career began at the Roosevelt Institute in Warm Springs, Georgia where she completed her clinical fellowship training. She later served patients in acute care and rehabilitation settings at Trinity Medical Center and UAB Hospital in Birmingham, Alabama. Promer founded Communication and Reading Therapies in 2001.
Promer received training in multisensory reading evaluation and instruction at the Chrysalis Academy in Atlanta, Georgia and she's also received training in Lindamood Bell and Wilson Language reading programs.  Promer became an Associate in the Academy of Orton Gillingham Practitioners in 2003 and she has completed course work toward the Educational Specialist master's degree in Instructional Leadership at Samford University.
Promer and her husband, Scott, a mechanical engineer, live in Vestavia and have three children. They are active members of Our Lady of Sorrows Catholic Church where she serves as a First Light Shelter liaison. 
Degrees and Certifications
M.S., communication disorders, University of Alabama
B.S., education, University of Tennessee Knoxville
Associate, Academy of Orton Gillingham Practitioners and Educators
Awards and Honors
Service Guild of Birmingham, outstanding member, 2011
Service Guild of Birmingham, outstanding fundraiser, 2005
Presentations
Functional Reading Assessment-Speech and Hearing Association of Alabama Annual Conference, Birmingham, AL 2013.
Special Education Eligibility in Alabama Public Schools-Childrens' Hospital Pediatric Group, 2014.
Involvement
Alabama Dyslexia Association, board of directors, past-treasurer
American Speech-Language Hearing Association
Speech and Hearing Association of Alabama
Samford University Legacy League
International Dyslexia Association, provider