Doctor of Audiology
Audiology is more than a profession—it's a calling.
A graduate degree in audiology will prepare you to help prevent, identify, diagnose and treat individuals with hearing loss and balance issues. Whether you are called to work with children, the geriatric population or any specialty in between, our program will equip you with the skills to provide the best care possible.
We do this with a faith-based academic coursework and clinical placements designed to help you reach your career goals, while emphasizing life-long learning, and high moral and ethical competencies. We place a strong emphasis on service. Included within the traditional workload, the program includes service-based learning opportunities that will provide you the chance to work with populations that one may not typically see in a clinical setting.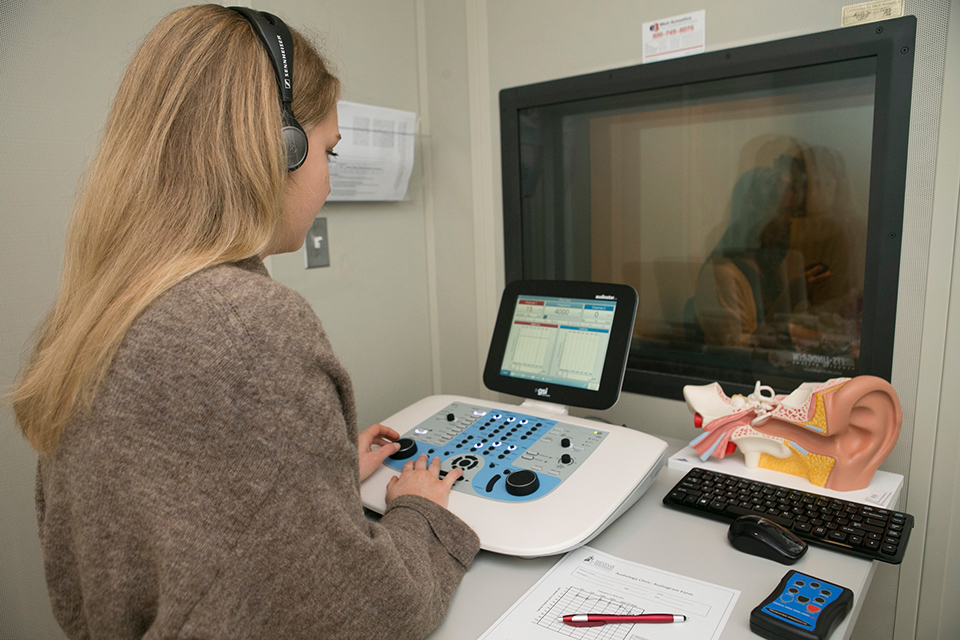 Our state-of-the-art facilities contribute to our mission of pursuing excellence in our academic programs and students' learning outcomes. The audiology program within the communication sciences and disorders department has just now added state of the art equipment that will allow students "hands on" opportunities prior to their clinical placements outside the walls of Samford University.
More and more, health care is delivered by teams of professionals from the various specialties. We've structured our program around this type of inter-disciplinary collaboration so that your experience is broadened to include other professionals that you may work with during your career.
Admission Requirements
Doctor of Audiology Admission:
CSDCAS Application Opens: January 11, 2018
Application Deadline: April 2, 2018
On-Campus Interviews: TBA
Entry Month: August 2018

To be considered for the Doctor of Audiology program, you'll need to meet the following criteria:
Hold an earned bachelor's degree from a college or university accredited by a recognized regional accrediting association. Suggested majors:  Biomedical sciences, Communication Sciences and Disorders, Health Sciences, Kinesiology, Psychology.
Minimum overall GPA of 3.0 on a 4.0 scale
Minimum GPA of 3.25 on the last 60 hours of coursework
GRE – Minimum combined score of 300

Analytical Writing Assessment = 4
The Miller Analogy Test (MAT) is not accepted

Three letters of reference submitted electronically. The three required recommendations should be from 1) two current or previous professors, 2) work supervisor and/or professional colleague.
On campus interview. Information regarding the interview will be sent via email once the application is reviewed.
Upon acceptance, a non-refundable fee of $500 is required to secure admission into the program. The fee is applied to the first semester's tuition.    
International applicants or American citizens who learned English as a second language must score at least 550 (paper), 213 (computer) or 80 (Internet) on the Test of English as a Foreign Language (TOEFL). International applicants must also obtain a score of 27 or better on the iBT speaking subtest of the TOEFL or a 50 or better on the Test of Spoken English. For more information, please visit www.toefl.org. We cannot issue an I-20 for this program at this time.
Exceptions to any admission requirements will be handled on an individual basis.
Students and applicants with disabilities who seek accommodations must make a request by contacting the Section 504/Disability Access and Accommodation Coordinator, 205-726-4078 or disability@samford.edu.
Admission Process
The steps below outline the application process for the Doctor of Audiology program. To apply, you are required to submit both an application through CSDCAS as well as the Audiology Supplemental Form. The link to the supplemental form will be emailed to you upon submission of your application. Before starting these applications, we recommend that you complete the following checklist:
Obtain student copies of your college transcripts to assist you in completing the coursework section for the application.
Before you begin your application, please review the following CSDSCAS instructions: Before applying, Participating Programs and Instructions & FAQ.
Request official transcripts from each institution attended by using the transcript request form in CSDCAS. Complete the form, submit it to the registrar's office of each institution attended and instruct them to enclose the form with your official sealed transcript. Transcripts must be sent to the CSDCAS Transcript Department. CSDCAS accepts official transcripts sent directly from the registrar's office only. Please send transcripts as early as possible and no less than four to six weeks before the application deadline due to the time needed by CSDCAS to verify your application.
Send transcripts to:


CSDCAS Verification Department
PO Box 9113
Watertown, MA 02471

Pay the initial service fee of $125 when submitting the CSDCSAS application.
Obtain three letters of recommendation from 1) two current or previous professors; 2) supervisor and/or professional colleague. These letters of recommendation must be submitted through CSDCAS. The references should attest to the applicant's academic ability and potential.
Submit official GRE scores to CSDCAS 6967.
On campus interview. Information regarding the interview will be sent via e-mail when the application is received.
CSDCAS Customer Service Information
Available Monday through Friday, 9:00-5:00 EST
617-612-2030
csdcasinfo@csdcas.org
Student Outcome Data
As students graduate from our program, outcome data will be published regarding:
Graduation/Completion Rate
PRAXIS Examination Results
Employment Rate
Clinical Practicum Experiences
Students participate in a variety of experiences that help prepare them for careers in audiology. The Department of Communication Sciences and Disorders maintains relationships with numerous clinical agencies in the Birmingham area as well as within the southeastern portion of the United States.
Program Leadership
Hollea A.M. Ryan, Au.D. Ph.D., CCC-A
Assistant Professor and Audiology Program Director
hryan@samford.edu
205-726-4578
Learn more
Aaron L. Johnson, Au.D., CCC-A
Assistant Professor and Audiology Director of Clinical Education
Ajohns33@samford.edu
205-726-4684
Learn more
Plan of Study
Tuition and Fees
Doctor of Audiology Tuition (2018-19), per semester = $11,261 
Doctor of Audiology Tuition (Year 4) = 25% of annual tuition
Application Fee = $125
Campus Fee = $25
Technology Fee = $175
Lab Fee = $200 annually for years 1-3
For the full listing of our tuition and fees, visit our Bursar's Office.
Mission, Goals & Objectives
The mission of the Department of Communication Sciences and Disorders at Samford University is to prepare highly qualified speech-language pathologists and audiologists through faith-based academic coursework and clinical placements designed to foster lifelong learning, attainment of personal career goals and high moral and ethical competency so that these practitioners will be of service to others in their community and throughout the world.
Goal I: Student Recruitment
The Department of Communication Sciences and Disorders Doctor of Audiology (Au.D.) program will recruit students who excel in academics, have a service oriented global perspective, and have potential for leadership within their community.
Objectives to support student recruitment
Objective 1.1: Create marketing/recruiting material/website that is attractive and technologically savvy for students
Objective 1.2: Recruit students from all undergraduate programs across the state, region, and nation
Objective 1.3: Admit students with varying degrees of diversity to support the University/Department mission
Objective 1.4: Identify university funding sources for scholarships and establish departmental funding sources
School of Health Professions Mapping
Student Recruitment and Retention
Enrolls highly qualified students
Retains students who enroll in graduate programs
Offers scholarships to an appropriate number of undergraduate and graduate students
Goal II: Faculty/Staff Recruitment
The Department of Communication Sciences and Disorders Au.D. program will recruit faculty and staff who exhibit combined excellence in teaching, student recruitment, and demonstrable scholarship and service to the department, university, and community at large.
Objectives to support faculty/staff recruitment
Objective 2.1: Create advertisements/web-based information for recruitment that are attractive to faculty who exhibit strong teaching abilities as well as a commitment to scholarship and service
Objective 2.2: Recruit doctoral level faculty at the state and national level
Objective 2.3: Recruit professional clinical staff at the state and national level
Objective 2.4: Provide financial support for faculty/staff travel in order to maintain currency in specialty areas of interest
School of Health Professions Mapping
Faculty/Staff Satisfaction
Faculty are satisfied with their work environment
Staff are satisfied with their work environment
* The doctoral (Au.D.) program in audiology at Samford University is an Applicant for Candidacy by the Council on Academic Accreditation in Audiology and Speech-Language Pathology (CAA) of the American Speech-Language-Hearing Association, 2200 Research Boulevard, #310, Rockville, MD 20850, 800-498-2071 or 301-296-5700.