Published on August 19, 2015 by Katie Stripling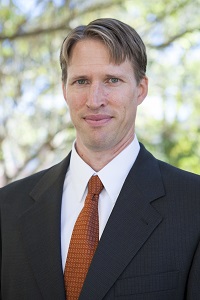 Alan P. Jung has been named dean of Samford University's School of Health Professions effective September 1, 2015. Jung's selection follows a national search for the first dean of the School of Health Professions. The school was established in 2013 as part of Samford's College of Health Sciences and Vice Provost Nena F. Sanders has led the school since its inception.  
Jung is currently associate professor and chair of Samford's Department of Kinesiology, a position he has held for the past eight years. Since joining the Samford faculty in 2006, he has taught numerous courses, including exercise testing and prescription, exercise physiology, and research methods, among others. For the past five years Jung has led students on medical mission trips to the Dominican Republic during Jan term.
"Dr. Alan Jung is uniquely suited to assume the deanship of the School of Health Professions during this critical phase in its development and significant growth," said Nena F. Sanders, Vice Provost of Samford's College of Health Sciences. "He has been involved in the development of the College of Health Sciences since its inception and has earned a reputation as an outstanding educator, scholar and administrator who is highly respected by faculty, students and alumni. I am confident in his leadership and his ability to continue the momentum of the School of Health Professions into the future."   
Prior to joining Samford, Jung served in faculty and teaching roles at University of North Carolina at Charlotte. He is a Fellow of the American College of Sports Medicine and the recipient of numerous teaching awards, including Samford's John H. Buchanan Award for Excellence in Classroom Teaching.
According to Sanders, Jung has committed much of his career to mentoring and conducting research. He has mentored more than 100 research projects presented by Samford undergraduate students at professional conferences, and numerous research projects that were published by Samford students. Jung has also received numerous grants to support his own research initiatives and is a frequent presenter for national, regional and local organizations.    
Jung received his bachelor of science in psychology and human communication from James Madison University and his master of science in exercise science from Appalachian State University. He also holds a doctor of philosophy degree in exercise physiology from University of Alabama. 
Although the School of Health Professions is relatively new at Samford, it is founded on the rich history of the Department of Kinesiology that was established in 1945, said Sanders. Currently, the School of Health Professions offers nine degrees and majors and is home to the departments of communication sciences and disorders, kinesiology and physical therapy. With the recent addition of graduate programs in athletic training, physical therapy and speech language pathology and an undergraduate program in communication sciences and disorders, the school is experiencing rapid growth that is expected to continue as a number of additional programs are slated to launch throughout the next five years.
"I am humbled and honored to have the opportunity to serve the students, faculty and staff in the School of Health Professions as dean," said Jung. "The School is full of remarkable individuals who excel in teaching, scholarship and service, and though we are a young school, we are already making a positive impact on the local and global communities.  The future is very bright for the School, and I am excited to be a part of it."