Published on September 10, 2015 by Katie Stripling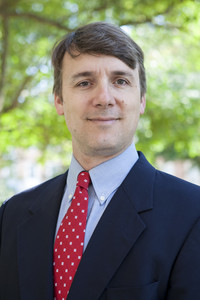 John Petrella has been named Chair of Samford University's Department of Kinesiology, effective September 14, 2015. Petrella has been a member of the School of Health Professions faculty since 2007. He replaces Alan Jung, who was named dean of the School of Health Professions effective Sept. 1.
"It always is an affirmation of a university's academic and faculty strength when you have well-qualified faculty members like Dr. Petrella who can step into key administrative roles," said Samford Provost J. Michael Hardin. "He will bring strong leadership to one of our growing programs in the new College of Health Sciences."
Jung echoed Hardin's assessment.
"Dr. Petrella has held numerous leadership positions on campus and in professional organizations, so he is well-prepared and well-equipped to shepherd the Department of Kinesiology into its next phase of growth," said Jung.
The 2015 recipient of Samford's John H. Buchanan Award for Teaching Excellence, Petrella is highly sought after as a mentor by students and faculty alike. According to Jung, his desire to serve others and to see them succeed will be an asset for the department.  
"I look forward to continuing to serve the faculty and students in the Department of Kinesiology in this new role," said Petrella. "Our department is strong and is committed to professionalism and excellence. The faculty and staff work very hard to exemplify those values while also seeking to pass them along to our students. We have an incredible team and I'm excited to continue to work with and serve alongside these individuals." 
Since joining the Samford faculty, Petrella has mentored three projects that have received recognition from the Southeast American College of Sports Medicine. He is a fellow in the American College of Sports Medicine and was named to the Birmingham Business Journal's Top 40 Under 40 in 2010.  His professional expertise includes undergraduate research, skeletal muscle changes with aging, skeletal muscle adaptations to resistance training and physical function in older adults.
Prior to joining the faculty at Samford, Petrella completed a four year research fellowship in the University of Alabama at Birmingham School of Medicine and Veterans Administration Geriatric Research Education and Clinical Center.  He obtained a Bachelor of Science in management from Georgia Institute of Technology, a Master of Education in clinical exercise science from the University of Georgia and a Doctor of Philosophy in exercise science from the University of Georgia. He also holds a post-graduate certificate in gerontology from the University of Georgia.