Published on November 28, 2018 by Natascha Anderson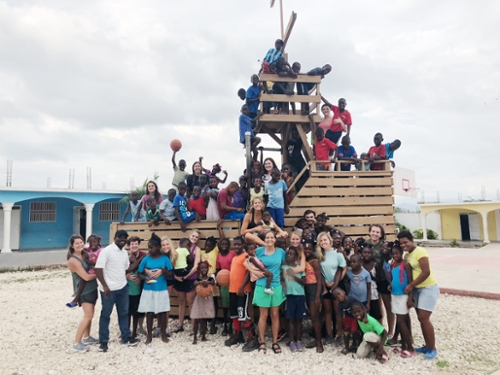 This summer, a group of eight graduate students in Samford University's Master of Science in Speech Language Pathology program in the School of Health Professions traveled to Gonaives, Haiti for a mission trip. Margaret L. Johnson, professor, and chair of the school's Department of Communication Sciences and Disorders, led the trip in partnership with Coreluv International.
"We were looking for an international opportunity for our students from a service standpoint," Johnson said. "We want to have a system where students can choose local, state, national and international opportunities to serve through missions."
Coreluv International is a non-profit organization that seeks to bring the love of Jesus Christ to orphans through clean water, proper food, health care, education, job skills and providing a loving home.
Alumna Tori Beckham '09 currently serves as the medical coordinator for Coreluv. Upon meeting Johnson, the two discussed the possibility of taking students on an international mission trip. With support from Samford University and the surrounding community, the mission trip to Haiti was able to come to fruition.
Once the group made it to Haiti, each day held a similar schedule. The team would wake up and have breakfast together at the CoreLuv guesthouse before going to the orphanage then spend time between play and work. The first half of the mornings would be spent with the children, playing games, singing and having fellowship with them. The second half was dedicated to working at the on-site medical clinic, where the students took the training they have received in the classroom and clinic and actively put it into practice.
 "We had the opportunity to educate the women caretakers about language development and how to foster and cultivate age-appropriate speech and language," said Emily Harrison, a second-year M.S. in Speech Language Pathology student. In addition to working with language development, the team would clean, organize medical supplies, take inventory of the pharmacy and more. 
In the evenings, students took time to reflect upon their day and connect their work to scripture in the Bible. The team would ask themselves three questions to ensure they had a clear mindset and servant heart: "Where did you see Jesus today? What do you have in your hands right now to serve? Do you know the name of an orphan?"
"I feel as though the value I added to the children's lives was so minuscule in comparison to the value they have added to mine," says Kaitlyn Walls, a second-year M.S. in Speech Language Pathology student. "I know I have often encouraged friends and others around me to 'count it all joy' many times in the past, but I do not think I truly knew the meaning of pure joy until interacting with the children, staff, and missionaries on this trip."