Published on March 27, 2018 by Sarah Waller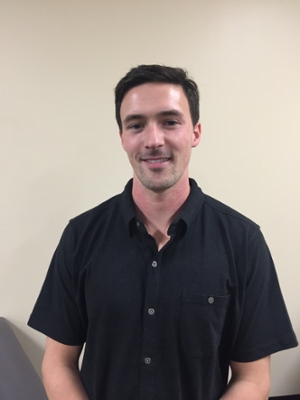 Andrew Darwin is a third year Doctor of Physical Therapy student, on track to graduate this May as a member of the program's inaugural graduating class. He has already accepted a position in Birmingham following graduation.
When did you decide to pursue a career in physical therapy?
My life has always seemed to point to physical therapy. I'm a people-person, and I've always been active. I went to run for a year in college, and then I transferred to the University of Alabama to earn a degree in athletic training. After graduation, I worked for a year, but I always had intentions to go to physical therapy school. The timing worked for me to apply to Samford's program. I knew it would be an encouraging environment, and the faculty would care about me as a person and an individual.
In learning about the role of a physical therapist, what has surprised you the most?
Physical therapy has given me the opportunity to realize how much I can use this field to impact the lives of other people. While a patient may see a doctor once a month, a physical therapist could see a patient three times a week. You can really gain someone's trust and use that to encourage them. 
I've seen this first hand in my past couple of clinical rotations. Physical therapy is more than a job that you go to, treat somebody and leave. As you talk to people, you learn so much more about them than the need they are seeing you for. As they start to open up to you, an avenue is created to share with them and encourage them in a unique way.
Samford's Doctor of Physical Therapy program has a strong emphasis on service. How has this impacted your experience in the program?
There are tons of opportunities for service with this program, which is great. As part of our first year, we had to complete 120 hours of service opportunities over the summer, and I knew I wanted to do something cool and unique. So I found a camp in Colorado called Adam's Camp.
It's a therapy camp for adults and kids with special needs. I experienced a week serving kids with cerebral palsy. They were nonverbal and fully dependent on wheel chairs. It was a whole different side of physical therapy. It was humbling—not just as a physical therapist but as a person—to see the sacrifice that their parents made every day for their children. I also worked with adults with down syndrome. They were just so happy, loving, care-free and non-judgmental. The whole experience was awesome.
I actually connected students in the next year's class with Adam's Camp, and I know they went last summer and a big group is going this summer too. I hope to return one day as a practicing physical therapist.
As a member of Samford's first cohort of Doctor of Physical Therapy students, how have you seen the program grow?
Being a part of the first cohort, we have had the unique opportunity to give feedback. I've already seen how faculty have listened and made slight changes to make things work better for the classes after us.
I like to think that our class has established a good footprint for the program, especially within the community. It's a cool opportunity to share with people that Samford has a physical therapy program and that we're about to graduate from it—with two more classes right there behind us.
What are you most excited about following graduation?
I'm excited to finally practice on my own. While I believe that I will always keep learning, it will be good to go out and start developing my own identify as a practitioner. I'm also a certified athletic trainer, which is a cool combination to have, and I'm excited to start building my reputation within the community.