Published on September 21, 2020 by Sara Roman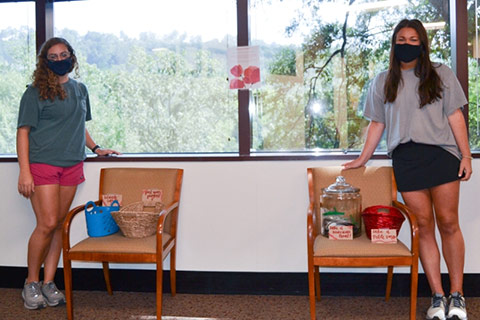 The start of this academic year has been unprecedented in many ways. After being apart for nearly six months, students are still unable to closely gather together and attend welcome back events that normally occur at the start of every semester. Regardless of the circumstances, faculty and staff within the Department of Communication Sciences and Disorders wanted to make sure that they were still doing their best to support students.
During the second week of classes, undergraduate and graduate level Communication Sciences and Disorders students were invited to submit personal or anonymous prayer requests. Throughout the week, the prayer requests were collected through an online form or students dropped them in a prayer jar stationed in the department.
"Our faculty, staff and students are like family. It has been hard to wear a mask and social distance when we really just want to give hugs and gather together to celebrate being back on campus; however, everyone's safety is our priority," said Margaret Johnson, professor and chair of the Department of Communication Sciences and Disorders. "Our department has always sought to do more than prepare students academically; we want to support them emotionally and spiritually too. This prayer parade was a way for us to do that while still social distancing and keeping everyone safe." 
Each student who participated was given an individual gift from the faculty and staff. The students also received Bible verses that were selected by Communication Sciences and Disorders alumni; since the establishment of the department, graduates have submitted their favorite Bible verse upon graduation.
 "Throughout the pandemic, I have seen our faculty be extremely creative in their delivery of lectures, simulation experiences and scheduling of clinical opportunities. But within the School of Health Professions, we believe it is essential to do more than educate students academically. I am extremely proud to see our faculty and staff go beyond the call in identifying new ways to serve and support students," said Alan Jung professor and dean, School of Health Profession.
Department of Communication Sciences and Disorders faculty and staff have agreed to continue praying for the students throughout the semester both individually and as a team.