Published on August 17, 2020 by Sara Roman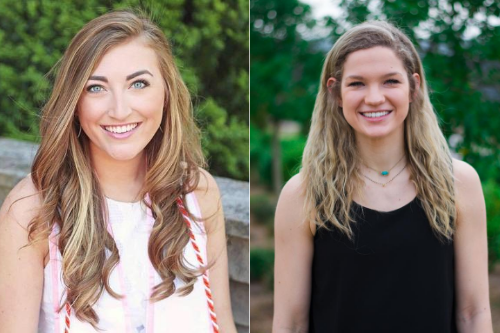 Samford University's School of Health Professions held its spring commencement ceremony August 15, presenting bachelor's, master's and doctoral degrees to 146 graduates from its communication sciences and disorders, exercise science, health sciences, sport administration, sports medicine, athletic training, speech language pathology and physical therapy programs.
Representing their peers, Kesli Hobbs '20, B.S. in sport administration and marketing minor, and Katee Nall '20, M.S. in speech language pathology, shared personal testimonies of overcoming adversity and leaning on God's faithfulness and love.
"1 Peter 4:10 says, 'Each of you should use whatever gift you have received to serve others.' Our calling to care was placed on our hearts by our Heavenly Father with deep intentions to fulfill His work and embody His image on Earth," said Nall. "We are facilitators of healing, restorers of hope, reconcilers and most importantly people who breathe love. It is our responsibility to be obedient to our calling and trust in God's premeditated plan even when the unexpected hits."
During her time in Samford's speech language and pathology program, Nall's father suffered a massive brainstem stroke and has continued to complete extensive rehabilitation. "My father would not be here if it weren't for the incredibly faithful health professionals that poured into him and our family. Each individual we encountered and continue to encounter had fulfilled their calling and in doing so restored hope, instilled peace, and showed us Christ-like love."
Although the year 2020 has been hard and unexpected, Nall reminded her fellow graduates that their call is deeper than their profession and that they have the opportunity to lead those they encounter to the cross during some of their most difficult and unexpected moments. 
In her remarks, Hobbs shared her testament of God's faithfulness even in the most difficult times. Hobbs came to Samford as a student athlete and served as a member of the volleyball team all four years of her undergraduate study. Although Hobbs says volleyball brought her to Samford, she shared that she was called to Samford for more.
Earlier this year, Hobbs lost her mother relatively unexpectedly after a short battle with cancer. "During these dark times, God brought me light…I was called to Samford so that during these hard times I could find strength, and I did not find this strength alone. I found strength in the love and support of all the people that Samford brought into my life," said Hobbs.
Hobbs recalled the teammates who stayed at the hospital with her for two days, the cards that her classmates sent and the coaches and professors who came to support her at her mother's funeral. "I was called to be in Birmingham for the past four years not only to stay close to my family, but to make a new family as well. Because of all of these people, I am able to find light in a dark place."
 "We all have different stories of how we got here. We all had different experiences. We are all moving on to different places and different professions. We are moving on to different stages of life. But what unites us as children of God is that no matter where our paths take us we are called to serve Him," said Hobbs. "Even in the darkness, God is going to work through each us to bring light into the world."
Following the speakers' remarks, Alan Jung, School of Health Professions dean and professor, left the graduates with one final message. "My message to you is simple, and it is one you have heard many times before…1 Peter 4:10. God has gifted you with new knowledge, new skills, new abilities and new wisdom. Now it is time for you to use those gifts to serve others, to follow your calling and to change the world one person at a time," said Jung. 
Each graduate's name was read individually and University President Andrew Westmoreland offered a few remarks. In addition, Westmoreland named Anna Ruth Waters '20, B.S. in communication sciences and disorders, this year's recipient of the Velma Wright Irons Award. The award is given to the member of the Class of 2020 with the second-highest cumulative grade point average across all University colleges and schools.
Since completing their respective programs, the spring graduates have had an impressive start to their professions. The speech language pathology graduates boast an impressive 100% licensure exam pass rate and employment rate and physical therapy graduates obtained a 98% pass rate and employment rate. For the Masters of Athletic Training graduates, four out of five have passed their licensure exam and accepted jobs within the profession. 100% of undergraduate kinesiology students completed original research projects their senior year and this summer several projects were professionally published. In addition, 100% of undergraduate communication sciences and disorders students were accepted into graduate study.