Published on October 21, 2020 by Sara Roman  
Kendell Jno-Finn '04, derived the name M3Endeavors from a saying he coined, "Making Movement Monumental." As an exercise science major, Jno-Finn knew that he wanted to become a physical therapist, but he also had a vision for a physical therapy practice that would offer more than physical therapy. 
He sought to create a place where he would help clients reach their full potential regardless of the client's injury history, age or current goals.
"The whole body works together as a system," said Jno-Finn. "Understanding what this performance is built on is far more important than many often realize. Overlooking our movement foundation can lead us to build on a weakness that can have a negative impact on performance."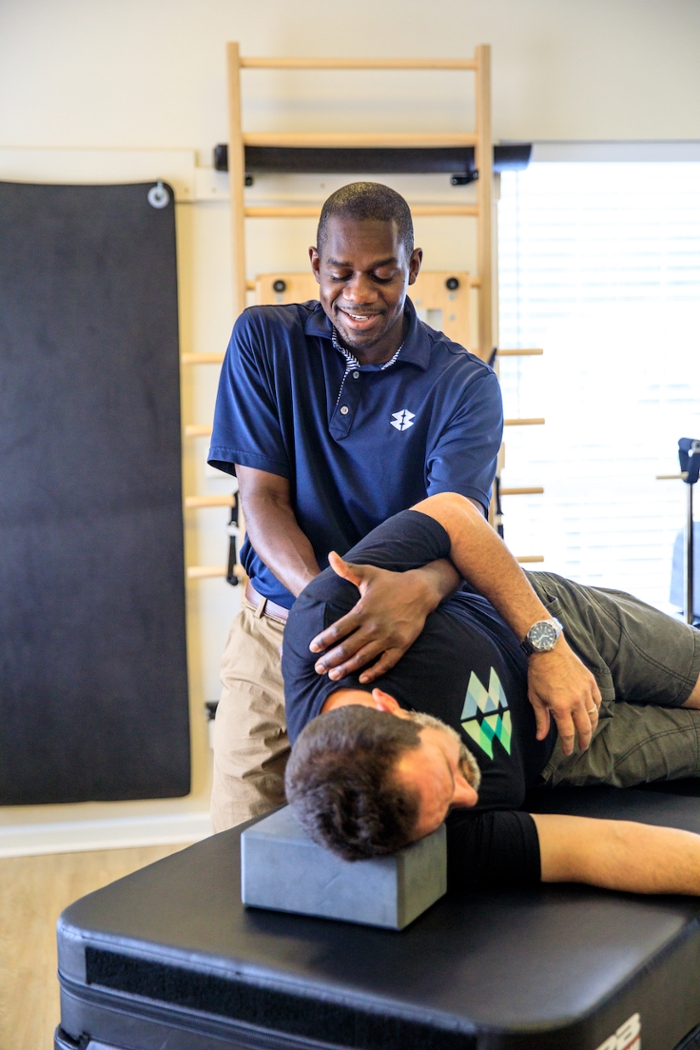 At M3, Jno-Finn and his team do exactly this. For clients who are experiencing pain, he completes a full assessment to make sure that they have the capability to achieve efficient, pain-free movement before he attempts to write a treatment plan. For clients who want to improve their athletic abilities, he completes an assessment and develops performance goals based on the results. Jno-Finn says the goal is to make sure each client has the movement capabilities to make their movement monumental regardless of the reason behind their visit.
Today, Jno-Finn offers physical therapy, sport performance, pilates and a lifestyle consulting program through his practice. He says the relationships, training and experiences of his Samford education play a vital role in the success he has had thus far.
Throughout the School of Health Professions, faculty and staff seek to teach students that their profession is more than an occupation; they have an opportunity to show Christ's love to clients daily and use their gifts and talents to serve others.
"I always knew that I wanted my practice to be more than physical therapy. I wanted to help my clients grow physically, mentally and spiritually, to treat needs beyond the physical body," said Jno-Finn. "A few of my professors at Samford not only encouraged my vision, but provided examples of what it could look like."
Led by the school's Dean Alan Jung, the School of Health Professions has taken students on a mission trip to the Dominican Republic for the past 10 years. In addition to serving those around the Birmingham area, Jno-Finn has joined the mission team as a medical professional.
"I didn't realize how emotionally vulnerable I needed to be as I prepared for the first trip. This reality hit me driving up to the first place we operated a clinic. I was serving a community full of people who looked like me and shared so many of the same challenges that I did growing up. Now, I have patients there that come back every year and wait on me no matter how long the wait is, and they remind me of my why," he said. On a number of occasions, Jno-Finn has presented the lecture "Connecting Faith, Profession and Service" to Samford students. "For me, it is about living a life that motivates, supports and inspires," he added.
It is this same outlook that drives his passion for treating patients each day. He finds opportunity to show up for clients authentically, with his empathy and the willingness to listen a generous blessing. Jno-Finn is living out his long-held vision of making a difference in the movement of his clients and making a monumental impact in the lives of others.