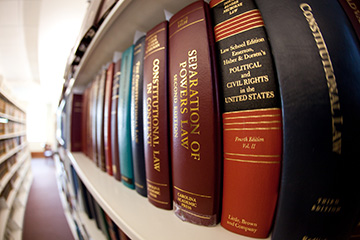 Why do our campus tours always end in the library? If you've visited campus, you know.
The spacious and open Lucille Stewart Beeson Law Library is a grand facility, created for serious study, deliberation and great ideas.
At a time when other institutions struggle to keep students on campus or keep their resources in step with student needs, Samford University's Cumberland School of Law is able to provide a library of significance, a place sought out by students seeking academic excellence, collegial comfort and a third place for thinking and study.
By the Numbers
Our library accommodates both private and group scholarship and includes:
16 conference rooms
474 study spaces
Carrels with electrical connections, long tables and comfortable seating
More than 200,000 shelved volumes
96,000 volumes on microfiche
All federal and state judicial opinions and statutory codes
Law reviews from every American law school
Access to the Federal Register and Code of Federal Regulations
United States hearings and reports
Selected foreign common law rulings