Published on September 17, 2018 by Kara Young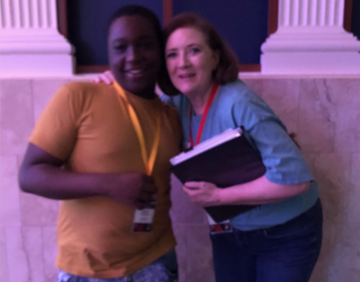 Samford University's Center for Worship and the Arts mission is to equip congregations to engage intergenerational and artistic worship practices that glorify God, honor Christ, and join the transformative work of the Spirit in the world.
The Center recently had the opportunity to work alongside of the Mt. Gilead Scholastic and Artistic Institute (MGSA) in Coy, Alabama. MGSA provides faith-based arts and scholastic training for children. Based at Mt. Gilead Baptist Church, the institute values faith, education, and perseverance.
MGSA hosted a summer camp July 9-20, 2018 for students in Coy which offered a variety of performing arts classes including piano, percussion, guitar, and dance.
Over half of the instructors got their start from the camp itself, which has been training students since 2012. MGSA students, both current and former, worked at the camp this summer.
Tracy Hanrahan, Program Manager for the Center for Worship and the Arts, was an instructor this year. Tracy taught choir through a Skype video call, building relationships with students and other on-site instructors.
"The experience of teaching with the MGSA Institute has been, without a doubt, one of the most rewarding experiences of my life. The students are eager to learn and so well behaved. Using video conference technology during the summer camp was new for both Pastor Angion and me, but, because of his perseverance it worked well. I was especially impressed with the way the on-site teachers took what we had learned in choir and integrated it into their lessons with instrumental students," Hanrahan said.
A select group of MGSA students are part of the Center's Student Worship Team Project, an initiative created to bridge the gap between youth ministry and worship ministry, develop deep expressions of intergenerational worship, and provide resources that amplify the role of student worshipers and leaders. The MGSA team received a $2,000 grant and attended Animate, the Center for Worship and the Arts' summer program in worship leadership, June 25-29, 2018 on the campus of Samford University.
For more information on the Mt. Gilead Scholastic and Artistic Institute, visit their Facebook page.