Published on November 9, 2020 by Tracy Hanrahan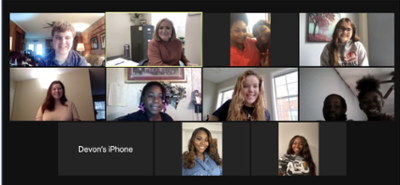 "Inspirational." "Encouraging." "Diverse." "Enlightening." "Special."
These are just a few of the words participants in the Alabama Black Belt Music Exchange use to describe their experience sharing music together the past three months. The cadre, developed as a partnership between Samford University's Frances Marlin Mann Center for Ethics and Leadership and the Center for Worship and the Arts, connected music students in the School of the Arts with students of the Mt. Gilead Scholastic and Artistic Institute in Coy, Alabama through a series of zoom classes.
Before beginning music exchange classes with the younger students, Samford music students first met virtually with the Reverend Dr. Stanford Angion, founder of the Mt. Gilead Scholastic and Artistic Institute, and the program's director, Ms. Susan Wilson. Dr. Angion shared the original vision of the MGS&A to provide both musical and academic training for young people in the Coy community in an effort to "raise up our own" as worship and community leaders. MGS&A was founded in 2012, and provides weekly music lessons in drums, guitar, piano and voice; academic tutoring and standardized test prep; and a summer camp each July. Ms. Wilson explained that while the COVID-19 pandemic has prevented students and instructors from being able to meet in person, lessons have continued through virtual connections such as FaceTime and Skype.
Samford Senior Olivia Grace Sistrunk said she has been encouraged by the resilience of the MGS&A administration and students. "Through COVID, we have been tempted to live in fear, but through this experience, especially the MGS&A students, I've been reminded that we can move past obstacles. The Lord has not given us a spirit of fear, and this experience has reminded me of that."
After helpful orientations with MGS&A community partners and the Mann Center, Samford and MGS&A students met together for three virtual Saturday morning music exchange classes. The classes included lessons in music theory and instrument demonstrations from Samford students, performances from MGS&A students and groups, and some intentional times of conversation and getting to know one another. MGS&A instructor Kendra Angion said, "This experience has been eye-opening to me. I've seen how we can bring different styles and ways of learning together to make beautiful music." Samford student James Kirk agreed, "It's been a really educational experience, as we've learned about different musical communities. 
Some of the participants' favorite features were a harp demonstration by Ashleigh Jones, a performance of "Silent Night" by the MGS&A choir featuring soloist Chelsea Wilson, an entertaining tuba demonstration from James Kirk, a piano performance by Devon Tucker, a solfege singing game led by Olivia Grace Sistrunk, a rhythm matching activity from Will Mason, a demonstration of vocal warm-ups and performance from Carlee Edge, and a very special video visit and song from Dr. Angion and Ms. Wilson's mother Rosetta Angion.
The 89-year-old Ms. Angion, who was an active part of the Civil Rights movement, encouraged the students to continue working hard to learn music and "whatever you do, do it in the name of the Lord," she said. She then sang part of one of her favorite songs from the civil rights era, "We Shall Overcome."