Published on March 6, 2020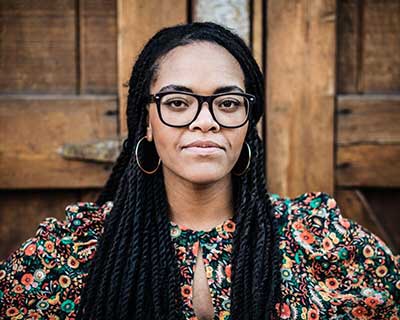 The Center for Worship and the Arts at Samford University had the opportunity to sit down with Liz Vice during a Worship Exchange Lunch and Conversation event. Liz Vice is a musician best known for her Gospel, soul, and R-and-B-infused album entitled, "There's A Light". Raised in Portland, Oregon and a recent resident of Brooklyn, NY. Ms. Vice has performed and/or shared the stage with artists such as Cody Chesnutt, St. Paul and the Broken Bones, The Temptations, Lecrae, Eric Early of (Blitzen Trapper), Josh Garrels, The Wood Brothers, Tunde Baiyewu (Lighthouse Family), Luz Mendoza (Y La Bamba), Eshon Burgundy (Humble Beast), and more. 
In our lunch and conversation event, Liz discussed her story, her journey to being a professional musician, and discerning calling in life, among other things. Below is a transcript of our conversation, and we hope it encourages you as it encouraged us: 
Tell us a little bit of your story:  Where are you from? How did you end up doing music professionally?
When I was a kid we didn't really have money to do things.  We didn't have money for me to take piano lessons so I didn't see myself going towards music. I wanted to be an actress, and that's what I felt the Lord calling me to do:  to be a film maker; to tell stories; to tell stories with actors and actresses who looked like me and reflected the people in my world.
I started going to church to be around people that were seeking the Lord and trying to use their gifts. The music at this one particular congregation was so real and so honest, but I only wanted to sing back-up vocals. Then one Sunday I just felt this tug.  It was like, "Hey! You should go up there and sing on stage!" I sang this song in front of the congregation, and I don't remember any of it. It was like I blacked out on stage and the room was empty and it was just me singing to the Lord. From that day on people kept saying, "You should do music."  People will tell you what your calling is, even if you don't know yourself.
I didn't have a booking agent or manager or anything like that. I would just play a show and people would come up and ask me, "Do you want to play for St. Paul and the Broken Bones? Do you want to play at the Portland Blues Fest?" It wasn't churches. It was people in the city of Portland. Even those people who weren't in the church would say, "I don't like that you sing about Jesus, but I liked your message." That caused me to reevaluate what the message of Jesus really is. When I perform and Christians at my show say, "How can you speak so freely about injustices and the things that are happening in this world and not about the salvation of Jesus?" That is the salvation of Jesus, when you talk about injustices and racism and sexism and segregation and wanting to bring people together.
Has there been any pain in not doing what you initially thought you were called to do?
In the beginning, there was a fork in the road where I was playing a show in San Diego. I got a call to basically do all the background casting for a TV show. I would be shooting for 6-9 months. I was on the road looking at what was naturally unfolding, and the curiosity of why it is that non-followers of Jesus connect so strongly to this music. I wanted to know why. Christians have so much music. I had people about whom I'd been told "Oh, stay away; you'll fall into the hole of temptation and darkness," yet they're the ones that are donating to my record. At that particular moment I had to choose:  am I going to go with this natural gift or am I going to go with what I went to school for?
For the very first tour I went on, I used money that I saved for 7 years from a very short film that I worked on. I don't know why I keep saying yes; or maybe I do and it doesn't feel like a good enough reason. The reason I keep doing it is because I feel Jesus is calling me to do it. I get to see the "other people" that He does love and the people He loved so much that He was killed because of how much He loved them.
It's hard. With each fork in the road that presents what I wanted to do and what is naturally unfolding, there are little things that lead me here. But it's hard, it's not easy.
How do you know where God is calling you?
It's important to ask:  Am I forcing myself to believe? Is it the loyalty thing in me, making me believe, or do I really believe that I've been called to do this? I meet other musicians and they're like, "I know I'm made to do this." You will never hear me say that. With music, I've never known what's going to happen. I get invited to all these different spaces; but the people come, and I begin to realize it's less about the building and more about the people.
I think about, "What did Jesus tell us to do? How did Jesus call us to live? Is it easier to follow the law, or is it easier to follow this Jesus who heals on the Sabbath, who loved people and would be on the side of those being accused by religious leaders?" Just because we say that on a Sunday in a sermon, we don't—or I would say I don't—believe I/we actually live it. I don't have a 5 or 10-year plan. You can die at any moment, so I want to live fully where Heaven is now, like Jesus lived.
My favorite prophet is Elijah. He is in complete despair because Jezebel is killing all the prophets. And what does God do? He doesn't say, "You idiot. I made you for this!" No, he feeds him, and lets him sleep.  A snack and a nap. God does that to me, and then he says, "Let's go! Get up. You're not the only one. There are other people like you, and I'm going to show you. And they are going to be in environments and spaces that you don't think are sacred." It's a willingness to be led by the Spirit.