Published on April 2, 2020 by Eric L. Mathis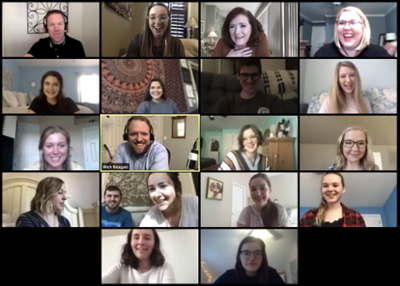 Like everyone, I have spent the last three weeks watching online worship services, participating in online worship services, and observing thoughts, comments, and conversations about the new reality of worship in a pandemic. With many of my peers and colleagues in ministry, I chalk up online worship and online youth group to a growing list of those things "they didn't teach me in seminary." But, how could they have? We have not experienced anything like this in recent history.
In worship and in youth group gatherings, I continue to ask questions that I know many of you are asking: How is this pandemic impacting our teenagers? What do our teenagers need from the church? What does the church need from our teenagers? How do we help teenagers engage worship as full, conscious, active participants?
In my own context, I participate in three Zoom calls per week with the teenagers in my church: a Sunday morning life group with a dozen or so 11th grade guys; a Sunday night gathering with the 100 or so teenagers in our student choir (yes, 100. They all show up. And, it works. It's a novelty COVID-19 not-withstanding, but more on that another day); and a Tuesday morning accountability group with four 10th and 11th grade guys on the student leadership team with our youth ministry.
I have now engaged online gatherings with teenagers for at least three weeks – more than twelve online gatherings with teenagers. In this time, I have experienced some really wonderful moments with teenagers that I will carry with me for years to come. There have also been less-than-holy moments, the ones best characterized as fumbling around in the dark. We need both to remind us that we are humans seeking God in the midst of this season of COVID-19.
My experience with teenagers online has been balanced by conversations with church leaders where these questions arise, "How do we gather for worship with our teenagers in this season?" While my reflections here are not comprehensive and may not even illustrate best practices, they may be a starting or growth point for you, your youth ministry, and your congregation.
Here are 15 Thoughts About Worshiping Online with Teenagers.
1.
Plan the gathering carefully.
In this season, you'll need to plan and prepare more while you settle into a new routine and rhythm of worship together. While this isn't always my mode of operation, I encourage you to plan a plug and play rhythm that repeats itself each week – determine what same things will happen each week (ordinaries), and those that will be different or have different content (propers). Consider a model that always starts with a prayer, uses two songs, a lesson, chat room, and finally a closing prayer time and blessing. The opening, closing prayer and chat room might stay the same in content, but the songs, lesson, and prayer might change from week to week. Such a model does two things: 1) makes it easy for leaders in a tumultuous season of reinventing everything and 2) provides routine and familiarity for teens in this season of uncertainty.
2.
Shorter and more frequent is better in these days
. If your gathering usually lasts an hour, you might think of going to 20 or 30 minutes. Teenagers' attention span is not as long for songs, prayers, messages, and other activities they may engage in person. I have been on calls with teenagers who start paying attention, then multi-task other projects during the call such as wandering around the house, getting interrupted by a sibling or pet, and leaving too early. To shorten worship, you might eliminate repetitions in songs and keep a teaching message to 5 minutes. Then, you might consider doing two a week instead of one per week – a beginning and middle of the week check-in.
3.
Balance the professional with personal
. All acts of ministry represent professional preparation, and teenagers need to see your confidence as professional ministers in this season. At the same time, students need to see how the challenges of this pandemic affect you. That may be confusion, grief, frustration, and uncertainty. The more you can balance the professional and the personal appropriately for them, the more they are likely to trust you and your congregation. The same is true for the content that you place in worship.
4.
Enlist students in advance to assume worship leadership roles
. This might include asking teenagers to lead music (see below), pray, read scripture, share a testimony, create a visual, or something else. They have more time in these days, and they want to be engaged in meaningful work. As you enlist them, call or text them and see that as an opportunity to reach out and connect with them individually.
5.
Prepare teenagers for the gathering in advance with a short message about worship
. You can do this with a text to them via Remind or GroupMe. Encourage teenagers to find a quiet space in their home to join the event, free of distractions. Headphones are helpful. Maybe prompt them to consider using the same space for all church gatherings and personal prayer time.
6.
Communicate your plans to parents
. In my experience, teenagers have anxiety about "what their parents/family will think" while they are sequestered away on a call with the church – especially if they are asked to sing or pray aloud. Communication to parents helps Mom, Dad, and the Family know what their teenager is doing in the time you've asked them to set aside. It will also help them know how you've asked teenagers to engage in particular steps after worship. Finally, it will free teenagers to engage in worship – especially if their family has given them permission and encouragement and privacy in advance.
7.
Build in time for the small talk and the excitement that comes from seeing everyone early in the experience
. It helps to keep audio unmuted on entry, letting the initial connection serve as the gathering or communal space of worship. You might even consider using holding room features so everyone can enter at the same time. When you are ready to start worship, tell them and then mute all participants except the host.
8. Establish a ritual to start and end your gathering. This might be something such as a visual of a candle to represent the light of Christ, a video, a scripture reading, a prayer, a song, or a combination of each of those things. Your gathering might end by blowing out the candle, repeating the prayer, speaking a blessing, or repeating the song. We really like this blessing by William Sloane Coffin for teenagers.


9. Don't be afraid to sing together. Really, you can do this! It will seem odd, but all participants need to be muted during the endeavor so you won't experience the confusion that comes from the delay across networks. Ideally, have a teenage worship leader prepare one or two familiar songs in advance that everyone can sing without words. Unmute the leader, and ask them to lead the group in a song. Invite everyone else to sing with the leader (congregation and you are still muted). If you don't have a leader, use a recording of a song.

10. Be interactive. Use the features in the calling system you use to encourage participants to communicate with each other. This might be the chatroom, polling feature, and hand raise feature. Provide discussion questions to a Bible study or sermon, and put teenagers in chat rooms to discuss with an appointed leader. Each time I'm preparing a video call with teenagers, I keep asking, "How can this be interactive?" It's amazing what you might come up with when you ask that question. It's prompted me to use hand raise, whiteboard, polling, and break out rooms in Zoom to accomplish intercessory prayer, Prayers of the People, artwork, small groups, and so much more.

11. Make space for play and side chats. When we are in person, we always discourage the use of cell phones, especially for texting and social media. Inevitably, students will engage the chat feature in your video calls to talk to one another. In this season, embrace that level of connectivity. Don't reprimand this. Instead, approach their side chats and conversations with an attitude of gratitude. "I love that these teenagers are enjoying the opportunity to be with one another in this space." If you're really game, use chat as a way of greeting one another or passing the peace.

12. Plan multiple follow-ups with students throughout the week. This might include creating a prayer guide for the week and distribute it using the text apps mentioned above.

13. Give teenagers something to do as a result of worship. This helps them transfer their experience of worship into their immediate context. It helps them ask the question: how does our time together influence what happens at home, today, tomorrow, and this week? To prepare this, you might ask yourself, "What is something your students can do as a result of the worship they engaged?" This may be an act of service to a local neighbor, a way of being with a sibling, or an honest conversation with a parent or God. Help them know how to translate the theme and topic of worship into everyday life.

14. Balance the synchronous with the a-synchronous in this season. As you engage teenagers through large group worship gatherings (synchronous), be sure you are also engaging teenagers through other activities they can do on their own (a-synchronous). Before, after, and during moments of large group interaction, find ways for you and your leaders to reach out to your students in personal ways and encourage Bible study, prayer, and other rhythms they may not have had time to pursue before. This individual interaction may be the most important in this season.

15. Give yourself permission to fail. I have seen so many youth ministers and worship leaders worry about their efforts in this season. Am I doing enough? Is what I create good enough? Remember, to use a cliché, we are in an unprecedented season right now. You won't get all things right on the first, second, third, or even the fourth time. Your goal in this season is to improvise your ministry with faithfulness, taking the next step with the information you have and acting on it faithfully. Then, keep doing that. God will honor your faithfulness, and your teenagers will appreciate your attempts to engage them.

Just this morning, I met with a group of high school guys to discuss Hebrews – the chapter we have been reading in our accountability group. Hebrews 10:25 reads, "Do not give up meeting together, as some are in the habit of doing, but encouraging one another – and all the more as you see the Day approaching." Continue meeting, continue worshiping with your teenagers in this season. Remind them that they are not alone. Remind them that they matter to the church. And, remind them that the great big God all of us worship is holding us and moving us forward with creativity, courage, and hope. May you find creativity, courage, and hope in this season of ministry and life.